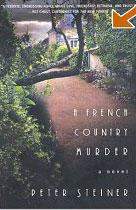 Among Washington's most creative minds are the cartoonists—Tom Toles of the Washington Post; Richard Thompson, whose satirical work appears in the Post and The Washingtonian; and Peter Steiner. His cartoons appear in the New Yorker, the Weekly Standard, and the Washington Times.
Steiner now has published his first novel, A French Country Murder. It's the very good work of a very interesting mind.
It's the story of Louis Morgon—a man doing intelligence work for the State Department—who is caught in what appears to be bureaucratic crossfire and gets forced out of government. He decides to leave Washington and walk across France, retracing the steps of the pilgrims. He settles in a small town, where he learns to cook, paint, and appreciate country life—until one morning he finds a body on his doorstep.
Thus begins the mystery, which features the US Secretary of State, a man Morgon once caught in bed with his wife. The mystery part of the story is a page-turner—if you start the 246-page novel on a Saturday, you'll likely finish it by Sunday night.
But like a good Alan Furst or Graham Greene novel, Steiner's book is more than a thriller. There are wonderful descriptions of France—the countryside, the good food, the character of the people.
Here's Louis Morgon on his walk across the country:
"He studied the map or read until it got dark. Then he lay down under his blanket, savoring the chilly air on his bare arms and face, watching the sky fill with stars as it slowly darkened, watching the Milky Way emerge from the blackness, until the entire sky seemed to be made of stars, a skein of stars, a quilt of stars, an ocean of stars. He could not find the words. Then, every night as he lay there, the same thing happened. And that was, that the great arching bowl of sky turned into space. That is, the sky suddenly took on something resembling its true nature—vast empty space—and assumed, to the extent that Louis's mind could apprehend it, its own true immensity. Louis was overcome by a terrifying and simultaneously delicious dizziness, and he spread his arms into the tall, cool grass, grabbing bunches of it in each hand, so that he would not go hurtling off into space.
" 'I am coming undone,' he thought to himself. The thought made him happy. It was undoubtedly a kind of madness, this new state of mind into which he was finding his way."
There also are insightful descriptions of Washington:
"Louis now gauged the depth of his obliviousness, his staggering naiveté, by the fact that he had preferred working at CIA headquarters in Langley to working at the State Department in Foggy Bottom. It was a great sprawling campus with modern, low buildings and tree-lined walkways. In fact, it had felt to him like a modern university, but for the high wire fences, the cameras mounted everywhere, the guards. And despite the secret and duplicitous nature of their business, he had found the people at CIA headquarters possessed of a peculiar and eccentric innocence—he could think of no better word for it—which he found appealing. They all had arcane specialities at which they worked earnestly and single-mindedly without any apparent ambition beyond the desire to do their job as thoroughly as it could possibly be done. And they all seemed to believe that they could make deceit and intrigue their livelihood and still lead normal lives."
Steiner served in the army in Germany and got a PhD in German literature from the University of Pittsburgh. He taught at Dickinson College before becoming a painter and cartoonist.
Why did he write this novel?
"In the mid-1990s I was going to France for part of every summer. I missed it when I wasn't there but discovered that writing about it seemed like a way to enjoy it vicariously. When I described the countryside, the food, the people, it was almost like I was there. To make the writing more interesting for myself, I invented a character. Then I dumped a body on his doorstep. Then I followed where things took me. Eventually they took me back to Washington."
Author:
Peter Steiner
Publisher:
Thomas Dunne Book
Price:
$23.95