This article is from 2006's Best Dressed Women package. To see 2007's Best Dressed Women package, click here.
Management consultant at McKinsey & Company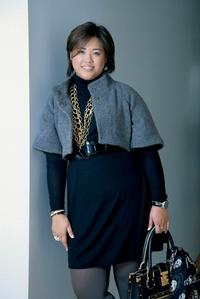 How would you describe your style? I love fashion. I will wear anything. I have four closets, one that's just shoes and accessories. I weighed 260 pounds when I was growing up and lost 100 pounds before college. I went from size 26 to size 8 or 10. I was like, "I can wear anything!"
Your best bargain? At Annie Creamcheese in Georgetown I got this Pucci nightgown that was $40. I wear it over jeans, and it's fabulous.
Tell us about playing stylist for your coworkers. Every Saturday I'll go shopping with someone. I once took three men in my office to Barneys Co-op. One man went in wearing pleated khakis and came out in really cool dark jeans. My friends say, "Lisa, you're in the wrong job." My philosophy is you've got to make it easy for people. I love to dress others because I never had that chance growing up.