Stadium Food That Scores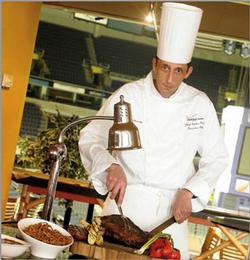 Eating at the game isn't just a dog and a Bud: Stadiums have joined the food revolution with designer sandwiches, ethnic junk food, and microbrews turning arena concourses into food courts.
This past season the food at RFK Stadium got an upgrade—although there was nowhere to go but up. Bringing in Red Hot & Blue to provide pulled-pork and pulled-chicken platters was almost as smart as the midseason trade for Austin Kearns and Felipe Lopez.
How well you eat at Verizon Center depends on how much you've paid for a ticket—seldom is dining out more stratified than at Abe Pollin's playpen. The most consistently delicious spot is the club level, available to VIP and lower-level season-ticket holders in the center three sections and once monthly for upper-level season-ticket holders. The long-cooked beef barbecue—flecked with char and topped with a tangy, sweet sauce—makes a nice sandwich, and the crab cakes are light on binding and mayo.
The 400-seat Acela Club is a disappointment—a sprawling, multistation spread of middling, warmed-over cooking. The Mediterranean table, though, is stocked with a good selection of cheeses, olives, and breads.
At FedEx Field's Touchdown Club, the higher-end pregame party, you can follow up a plate of tasty Italian sausage and peppers with a delicious fruit tart. At Tailgate Club's game-day party, you can chow down on all-you-can-eat barbecue ribs—meaty and messy.
Inside, the trick to eating well is to get as close to The Danny as you can. That's easier said than done. If you're a Cabinet member or a TV talking head—or a certain movie star—chances are you're sitting in the Owner's Club, the premium suite area, and dining at the massive buffet on juicy baked ham and sliders topped with onion marmalade.
At the club level—a notch below in comfort and prestige but plenty swank for a football stadium—stop by the West End­zone Bar to fix your own bloody mary from myriad choices of mixes, peppers, hot sauces, and pickled green beans and okra. A few of these combustible cocktails and your frustration at all those offside penalties and botched coverages will be distant memories.