Good News for Homeless Dogs and Cats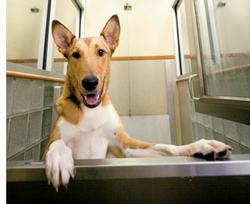 The first thing you'll notice in the dog room of the Washington Animal Rescue League (71 Oglethorpe St., NW; 202-726-2556; warl.org) is the quiet. Instead of barks and yips, water fountains and classical music prevail. The shelter's $4-million renovation was designed to reduce anxiety in homeless animals. Happy cats and dogs, the thinking goes, are more likely to be adopted.
In place of metal cages are glass-enclosed "dog dens" with heated floors and memory-foam beds and "cat condos" that interconnect so animals can socialize. There are also private rooms where visitors can get to know that dog with the soulful eyes or the kitten that reached a paw out to say hello.