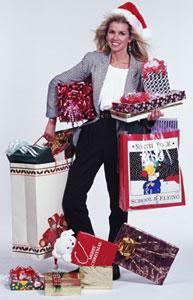 Shopping online for the holiday season can be much less stressful than dealing with the parking, crowds, and smaller selections at the mall. There are a plethora of gift ideas to choose from on the Internet, and you get the benefit of searching for specific gifts you have in mind, or browsing to your heart's content when you're all out of ideas.
Whether you're on a budget or you want to splurge on a loved one, this guide is full of great ideas for the many people on your list.
THE TECHNOGEEK
Expensive: Sony DCR-HC46 MiniDV Handycam Camcorder
$405.49
This camcorder will capture and transfer video images, so your gadget-loving recipient can spend hours capturing, editing, and sharing digital videos and images.
Moderate: Microsoft Zune Black 30GB Digital media player Model JS8-00001
$239.99
The Zune is capable of playing and sharing music (both MP3 and radio) and videos, and displaying photos.
Inexpensive: One For All URC-9910 8 Device Learning Remote
$33.95
A universal remote that can be used to control up to eight devices — every electronic nerd's dream.
THE PARTY ANIMAL/COCKTAIL EXTRAORDINAIRE
Expensive: The UberTap – D-System Three Spout Tap
$99.99
For the multitasker–you can fill up three cups at once.
Moderate: Pier 1 Imports Stainless Steel Shaker Set
$30
This set includes a cocktail shaker, bottle opener, tongs, strainer, knife, and stand to create the perfect martini.
Inexpensive: "Mine" Beer Bands
$8.99
These identity bracelets will let other party-goers know that you've "claimed" a bottle.
THE PERSON WHO HAS EVERYTHING
Expensive: RedEnvelope Personalized Cashmere Scarf
$85-$98
A monogrammed scarf in cashmere might not be an essential item, but your friend or loved one will surely appreciate it.
Moderate: Things Remembered 8"x10" Mixed Metal Symphony Frame
$35 (additional cost for engraving)
Engraving a special message and even adding a photo to the frame will make this a one-of-a-kind gift.
Inexpensive: CafePress Custom Value T-Shirt
$8.99
Putting an inside joke on a T-shirt is a good idea for the person who already has it all.
THE MUSIC LOVER
Expensive: Audio Chair Rocker with Arms
$99.99
This links up to iPods, MP3 players or CD players for a surround-sound experience in a comfy rocking chair.
Moderate: Apple iPod Shuffle
$79
The newest version of the shuffle is smaller than the original and holds up to 240 songs.
Inexpensive: Insignia Shower CD Player and AM/FM Radio
$30.99
Your music lover can catch up on the news, favorite music, or talk radio while he or she soaks.
THE MOVIE BUFF
Expensive: Insignia 10.2" 16:9 Widescreen TFT Portable DVD Player with Swivel Screen
$229.99
This gadget allows a movie lover to watch his or her favorites anywhere.
Moderate: Christopher Guest DVD Collection
$40.99
This collection of hilarious mockumentary films includes: Waiting for Guffman, A Mighty Wind, and Best in Show.
Inexpensive: One-month subscription to Netflix
$17.99
The gift that keeps on giving. Free movies for an entire month.
THE CRAFTY TYPE
Expensive: Silver Jewelry Clay Beginner Kit
$111.95
This jewelry-making kit uses precious metal clay that will inspire crafty folks.
Moderate: Restoration Hardware Leather Art Kit
$36
This kit includes 12 colored pencils, paper, and a sharpener for drawing on the go.
Inexpensive: Scrapbook Kit In A Stack 12''X12''-All Occasion
$13.99
This kit has all the materials needed for seasoned scrapbookers starting new albums, or beginners who wants to get creative with his or her photos.
THE SPORTS FANATIC
Expensive: MLB Washington Nationals Authentic Customized Home Jersey
$249.99
Root for the home team by giving your baseball fan a customized Nationals jersey.
Moderate: Sportcraft Better Badminton Set
$24.99
Get a spectator off the couch and onto the badminton court.
Inexpensive: NFL – Greatest Super Bowl Moments DVD
$9.97
This DVD features the best Super Bowl moments of the past 39 years.
THE WORKAHOLIC
Expensive: Motorola Bluetooth Wireless Headset H700
$119.95
A workaholic needs both hands to get a job done right, so this Bluetooth-enabled wireless headset would be a big help.
Moderate: Day Runner e-Binder Only w/Handles
$54.59
This modern carryall has space for electronic gadgets like a PDA and cell phone.
Inexpensive: Restoration Hardware 10-in-1 Office Multi-Tool
$29
Why have 10 separate office supplies take up a lot of room? Here is one tool that organizes them all. This gadget includes a stapler, tape measure, hole punch, and scissors.
THE BOOKWORM
Expensive: Harry Potter Hardcover Box Set
$100.13
The box set contains books 1-6 of the Harry Potter series, which is popular with both young and old audiences.
Moderate: The Sharper Image "Bright As Day!" Daylight Spectrum Booklight
$29.95
This fluorescent light clips on to the back of a soft or hardcover book and will illuminate the whole page without a glare.
Inexpensive: Running with Scissors : A Memoir
$7.84
Augusten Burrough's childhood memoir was made into a movie this year, but the book is much better.
THE GAMER
Expensive: Nintendo DS Lite
$129.99
Compatible with both Nintendo DS and Game Boy Advance games, the DS Lite is a smaller, sleeker version of the original Nintendo DS.
Moderate: Guitar Hero II Bundle with Guitar
$79.82
For anyone who's ever dreamed of being a rock star, this music video game puts you onstage with an opponent to battle over who can rock out the hardest.
Inexpensive: Starr Ltd Atomic Rocker
$19.99
This comfy rocking chair features bungee cords on the sides, allowing gamers to keep their remotes and controllers within easy reach.
THE FREQUENT TRAVELER
Expensive: Magellan Prestige RoadMate 6000T Portable GPS
$649.95
A gift for the geographically challenged.
Moderate: Restoration Hardware Leather Passport Holder
$28
Your jet-setter can stay calm and collected at the airport when his or her passport, tickets and ID are organized in this handy leather holder.
Inexpensive: Travel Comfort Set
$19.99
Frequent flyers will enjoy taking the redeye when they have this set complete with an eye mask, ear plugs, and an inflatable neck rest.
THE FOODIE
Expensive: All-Clad Stainless-Steel Fondue Pot
$139.95
Not just for the 70s lover. This fondue pot is the ideal tool for entertaining.
Moderate: Food Network Kitchens 3-Book Kit
$44.95
These cookbooks are a useful addition to any food lover's kitchen: Food Network Kitchens Cookbook, Making It Easy, and Get Grilling.
Inexpensive: Crate & Barrel Chocolate Enrobed Caramel Corn
$14.95
Caramel corn dipped in dark chocolate and sprinkled with cocoa powder is a rich holiday treat.
THE FEMALE FASHIONISTA
Expensive: Julie Sandlau green stone cluster oblong hoop earrings
$141
The striking green stones in these earrings will add instant style to an outfit.
Moderate: Forever 21 Houndstooth Coat
$59.80
A houndstooth pattern adds class to any ensemble, so your trendsetter will surely appreciate this coat.
Inexpensive: Lulu Croc-Embossed Clutch
$18
A clutch is the perfect accent to a fashionista's night-on-the-town look.
THE METROSEXUAL MALE
Expensive: Ralph Lauren Super Repp Stripes Tie
$145
This tie is mostly black, but the addition of thin pink and white stripes are very chic for the fashion-savvy guy in your life.
Moderate: Kenneth Cole Men's Watch
$85
A black and silver wristwatch with a leather band and a square face is dressy enough for work but casual enough for play.
Inexpensive: Le Tigre brown striped armhole track jacket
$43
Throw it over a T-shirt with jeans on the weekend, and any man can achieve an effortless, pulled-together look.
*Note: Prices are subject to change and do not include shipping and handling.