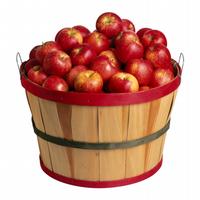 Picking apples and pumpkins is an autumnal rite of passage. Though most farms pack up their hayrides come the end of October, a few stay open through early November. You'll find apple varieties such as Gala, Jonathan, Braeburn, Cameo, and Pink Lady (great for eating raw); and Stayman, Rome Beauty, and Granny Smith (great for baking). Here's where you can still haul a few bushels, plus get treats such as homemade ice cream and cider doughnuts.

Virginia Orchards:
Cows-N-Corn (5225 Catlett Road, Midland; 540-439-4806; cows-n-corn.com)
Best picking: Pumpkins.
Best snacking: Rotating ice cream flavors including Apple Pie, Pumpkin and Oatmeal Raisin.
Great Country Farms (18780 Foggy Bottom Road, Bluemont; 540-554-2073; greatcountryfarms.com)
Best picking: Pumpkins.
Best snacking: Cider slushies and homemade kettle corn.
Marker-Miller Orchards:(3035 Cedar Creek Grade, Winchester; 540-662-1980; markermillerorchards.com) Best picking: Pumpkins, Fuji, Granny Smith, and Cameo apples, and winter squash.
Best snacking: All things apple— turnovers, cider donuts, apple muffins, and apple dumplings. They've also got pumpkin rolls, pumpkin-carrot cake, and devils food cake with peanut butter icing.
Maryland Orchards:
Butler's Orchard: (22200 Davis Mill Rd., Germantown; 301-972-3299; butlersorchard.com)
Best picking: Apples (including Red Delicious, Jonathan, and Stayman), pumpkins, and raspberries until the first frost. In December, you can cut your own Christmas trees.
Best snacking: Fresh-baked apple and apple-walnut pies, apple spice bread, and cider doughnuts on the weekends.
Cherry Hill Farm: (12300 Gallahan Rd., Clinton; 301-292-4642; cherryhillfarm.net)
Best picking: Apples.
Best snacking: Fresh-baked doughnuts—cake on weekdays and both cake and yeast on the weekends, in flavors such as carrot cake, apple cider, and strawberry—as well as pies, muffins, turnovers and breads.