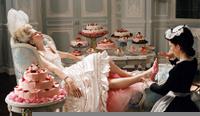 Watching Sofia Coppola's lush new Marie Antoinette, you'd think the party-girl/queen's infamous quip was "Let them eat macaroons." Because those pale pink and green moundlets of egg whites, ground almonds, and sugar are everywhere in the film.
Laduree, the renowned Paris patisserie, was Coppola's pastry consultant. And I can vouch for the macaroons there, having worked my way through a bagful of violet-blackberry and dark chocolate ones while shopping in the 6th arrondissement a couple of months back. They were ethereal, chewy, melt-in-the-mouth bites. Happily, the area has two French patisseries that turn out stellar macaroons should a craving arise: Patisserie Poupon in Georgetown (1645 Wisconsin Ave., NW; 202-342-3248) and Praline in Bethesda's Sangamore Plaza (4611 Sangamore Rd.; 301-342-3248). Poupon does a fabulous pistachio version filled with pistachio buttercream, along with classic almond, chocolate, lemon, and raspberry flavors (all are $15 a pound). Occasionally hazlenut and chestnut show up too. At Praline, round trays are piled high with pistachio, hazlenut, and chocolate varieties (.95 cents each), all sandwiching luscious chocolate ganache. Besides traditional lemon and raspberry, right now they're also doing an offbeat–but delicious–pumpkin macaroon filled with pumpkin buttercream.
Of course Antoinette, though certainly frivolous and spoiled, never really uttered the ill-fated "let them eat cake" line either. Coppola's queen was the unhappy victim of 18th century tabloid frenzy — and she didn't have a publicist to make it all go away.