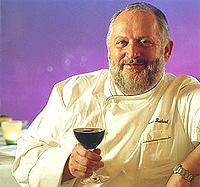 Citronelle chef Michel Richard's big, beautiful new cookbook might be called Happy in the Kitchen, but these days, you're more likely to catch him in a bookstore than behind the stoves. Lucky for us. Fresh off a national book tour, he's making the local rounds over the next few weeks.
Richard's as playful outside of the kitchen as he is inside it, and he always has outrageous stories at the ready. Ask him about the time he ate a cat in the French army (or the chef he worked for who served lion), his experiences working under French pastry master Gaston LeNotre, his love of microwave pizza…
Wednesday, December 6
Book signing at Politics and Prose (5015 Connecticut Ave., NW; 202-364-1919). 7 PM. Free.
Wednesday, December 13
Discussion and Q&A at the Embassy of France (4101 Reservoir Rd., NW; 202-944-6090). 6:30 PM. $70 (includes appetizers and a copy of Happy in the Kitchen).
Saturday, December 16
Book signing (with holiday sweets) to benefit St. Jude's Children's Hospital, at Saks Fifth Avenue (Second floor, 5555 Wisconsin Ave., Chevy Chase; 240-497-5302). 1 to 3 PM. Free (donations to St. Jude's will be accepted), but reservations required.