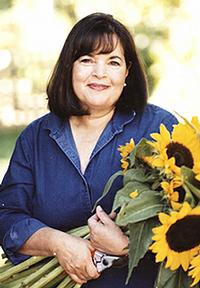 Wednesday, November 8
Our favorite Food Network guilty pleasure, Ina Garten (better known as the Barefoot Contessa), who we love for closing out her show in totally un-Martha ways, such as lolling in a bubble bath with a margarita in hand, will sign her latest cookbook, Barefoot Contessa at Home, at the Pentagon City Sur la Table.
Sur la Table, 1101 S. Joyce St., Arlington; 703-414-3580. Noon (but get there early–they'll be handing out tickets). Free.
A posting on DonRockwell.com alerts us to Jane and Michael Stern's appearance at the Fairfax Public Library. The team-writing married couple have spent their career chronicling the glories of "roadfood"– small-town lunch counters, truckstop dinettes, clam shacks, and pizza dives–in their many guidebooks and in their column for Gourmet magazine. They also maintain Roadfood.com, an excellent resource for road trips and regional eats. Fairfax County Public Library at the Fairfax County Government Center, 12000 Government Center Pkwy., Fairfax; 703-324-8428. 7:30 PM. Free.

Comedian and native Marylander Mo'Nique is at Borders to talk about her new book, Skinny Cooks Can't Be Trusted, which offers tips for the least labor-intensive cooking techniques and a slew of buttery recipes. Uh-oh–keep her away from Barton Seaver.
Borders, 931A Capital Centre Blvd., Largo; 301-499-2173. 7 PM. Free.
Thursday, November 9
Cookbook writer and dessert doyenne Dorie Greenspan stages quite the civilized (and pricey) book discussion, over afternoon tea and sweets at the Four Seasons in Georgetown. Greenspan is best known for her collaborations with Julia Child, Pierre Herme, and Daniel Boulud, but her latest work, Baking: From My Home to Yours, offers her own recipes and exacting techniques. The fee includes a signed copy of the book.
Four Seasons Hotel, 2800 Pennsylvania Ave., NW; 202-944-2026. 2:30 PM. $65.
Saturday, November 11
NPR food commentator and "kitchen anthropologist" Bonny Wolf reads from her new collection of essays, Talking With My Mouth Full.
Politics and Prose, 5015 Connecticut Ave., NW; 202-364-1919. 1 PM. Free.
At the Czechoslovak Christmas Bazaar, you can sample traditional holiday goodies from Prague and beyond. Arrive early for a taste of vanocky, a sweet, braided Christmas bread, plus traditional Christmas cookies, Prague sausages, and roast pork with boiled dumplings and cabbage.
River Road Unitarian Church, 6301 River Rd., Bethesda;703-281-2570. Noon to 4 PM. Free.
At Planet Wine's second annual Holiday Wine Festival, held at Tallula restaurant in Lyon Park, you can taste 34 wines, including sparklers and dessert wines, and selections from South Africa, Spain, Italy, and more. All bottles on display will be available for 10 percent off (15 percent off if you buy a mixed case).
Tallula, 2761 Washington Blvd., Arlington; 703-549-3444. Choose one of three entrance times: 1:30, 2:15, or 3 PM (you can stay until 5 PM). $40 in advance, $45 day of festival.
Monday, November 13
Most cooking schools teach knife skills seminars for about 25 bucks. But do they teach you how to open a bottle of Champagne with a sword? Probably not. During the Ritz-Carlton's latest installment of their Modern Gentleman series, etiquette-obsessed author Jason Tesauro teaches you to do just that (plus carve fowl and debone fish). While we're not sure our idea of cool involves lopping the neck off a bottle of Pierre Peters in such dramatic fashion, you'll surely be a hit with the renaissance festival crowd.
The Ritz-Carlton, 1700 Tysons Blvd., McLean; 703-917-5498. 7 PM. $155.