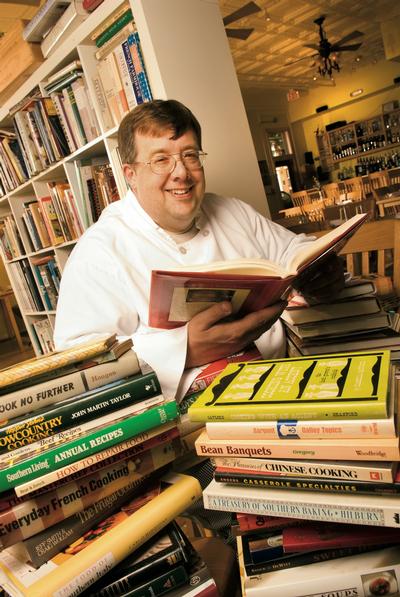 Do chefs read cookbooks? Ask them and you're likely to get one of two answers: a rant about the sad state of cookbooks today (chefs are unhappy with all the hot sellers from Food Network personalities) or something to the effect that they don't need cookbooks—they already know how to cook.
But prod further and you'll find that cookbooks mean more to many than they first admit. Some have used them to master techniques. Many have produced literal renditions of crowd-pleasing dishes from their most cherished volumes. All confess to turning to a familiar voice for inspiration or reassurance.
We expected that Auguste Escoffier, the grandfather of French cuisine (his compendium of classical techniques, Le Guide Culinaire, is a culinary bible), would get lots of acclaim. So too the outpouring of affection for the matron saint of home cooks, Julia Child, and the interest in Ferran Adria , the avant-garde whiz whose $400 volumes detail the latest conjurings from his Barcelona food lab.
But what about the chef known for rich Southern food who harbors a secret love for Weight Watchers cookbooks? And who would have figured that well-thumbed editions of Time Life's The Good Cook series were in the libraries of two of the most respected chefs in town?
Here are eight chefs whose bookshelves are filled with titles of every kind imaginable. Well, almost. There's not a quickie-meal cookbook in sight.
David Jones, Zest
"I trade dinner for books"
How many books do you own? About 1,000. They're all here in the restaurant. People borrow them all the time. And I have a guy who I trade dinner for books with.
You must have quite the range. I have a lot of very specific books—a smoking book, a beef book, one for corn, one for mushrooms. And a lot of old, quirky stuff—nutrition manuals from the '50s, books on how to be a proper housewife.
What are some of your rare finds? Here's Mrs. Beeton's Cookery Book from 1923. It's even got coupons stuck in it—for bicarbonate of soda, baking powder in family canisters. It's got recipes for sheep kidneys, sheep's tongue, sheep's trotter stew, sheep's head dress, sheep's brains with parsley sauce, sheep's heart. It tells you how to cook everything.
What's your favorite book to cook with? Baking With Julia, based on Julia Child's recipes. People love her flourless chocolate torte.
Brendan Cox, Circle Bistro
"The book my parents bought me"
What books do you keep in the restaurant? We always have a copy of Escoffier's Le Guide Culinaire. It's the codified basics of French cooking. Almost all classical flavor combinations are in there somewhere. And a book by James Peterson called Sauces. I don't know how well read he is outside culinary circles, but I and other cooks I know like to have his books around. He's done a lot of research—his recipes work.
How about at home? One of my favorites is a cookbook called Maryland's Way, which has food from the early 20th century. It sort of shows how food for the masses has gone the cheapest, easiest way, but it's nice to see that there was actually a time when people really cared about what they were eating.
Which book has the most personal meaning for you? It's The New Making of a Cook by Madeleine Kamman, who's a culinary teacher in Vermont. It's the book my parents bought me when I told them I wasn't going to college anymore and was going to be a chef. So it was a nice bit of tacit reenforcement.
Bob Kinkead, Kinkead's and Colvin Run Tavern
"I taught myself to cook by reading"
What's your collection like? I have about 1,500 books. I basically taught myself to cook by reading. I never went to culinary school.
Which ones did you learn the most from? Mostly Modern French Culinary Art by Henri-Paul Pellaprat and Louis DeGouy's The Gold Cookbook . Paul Bocuse's French Cooking has really great recipes for a lot of his classic dishes. And Lenotre's Desserts and Pastries by Gaston Lenotre—he's arguably the greatest pastry chef of the 20th century, or maybe ever. Michel Richard used to work for him. I still use his puff-pastry recipe.
Which books inspired you? Great Chefs of France by Anthony Blake and Quentin Crewe, which was stories about all the three-star chefs in France and how they ran their kitchens. Some were miserable pricks who made Gordon Ramsay's television show look like nothing. Others were lovely old gentlemen, and it was like working for your grandpa. It really inspired me to focus on my career.
What have you liked more recently? One of the big problems with cookbooks today is that everything's dumbed down. All you see is Rachael Ray and Giada De Laurentiis, essentially two actors acting the part of a cook.
Go back a few years—is there anything you'd call a modern classic? I consider Time Life's The Good Cook series the best cookbooks ever written. Jasper White's Cooking From New England is still sensationally good. I grew up there, and his stuff's very accurate. Paula Wolfert's not a professional cook, but she does her homework. The best of her books is The Cooking of Southwest France. And I like Marco Pierre White's The Mirabelle Cookbook and Wild Food From Land and Sea —he's a jerk in real life, but he writes a good cookbook.
Andrew Evans, The Inn at Easton
"Thomas Keller's cookbook is really respected"
Which books have influenced you most? Definitely Gordon Ramsay's Passion for Flavour . He has great flavor combinations without there being 20 sauces on the plate. The basis for our sticky fig pudding is his steamed-pudding recipe. And Thomas Keller's The French Laundry Cookbook. It was meticulously put together, and it's really respected in the culinary community. I've picked up some of his sauces, like the artichoke nage, and his technique for making oils and powders.
Which of the classics do you use? I still use the Larousse Gastronomique for ideas because just as modern cuisine takes off, that's when really old techniques and flavor combinations come back into vogue. So you'll go to Larousse and it seems really fresh because nobody's cooking that food anymore.
You've spent time in Asia and Australia. Any favorites that focus on those cuisines? David Thompson has a restaurant in London, but he's the authority on Thai cuisine. The Thai government even had him teach their cooks. His Thai Food is like a bible, but the recipes are really labor-intensive. It's Thai restaurant cooking.
Jeff Buben, Vidalia and Bistro Bis
He uses Weight Watchers!
What cookbooks do you use in the restaurant? The ones we use most are on charcuterie and curing— The Art of Charcuterie by Jane Grigson. Our chorizo recipes, the Lyon sausage, and all the sausages we make are from there. The newer Charcuterie by Michael Ruhlman is also very good.
How about at home? I rarely cook at home. My wife, Sallie, loves the Best of Cooking Light series. I'll say, 'Holy cow, this tastes good!' And she says, 'Well, I used ten times less butter and oil than you would.' One of my favorite recipes, spaghetti with Gorgonzola and figs, is from the Weight Watchers Great Every Day Cooking cookbook.
What are the best books on Southern food? In the last few years, Frank Stitt's Southern Table . Edna Lewis is really the top in official Southern cuisine. Her books, like The Taste of Country Cooking, are authentic. The recipes are from her family. Junior League cookbooks— The Southern Junior League Cookbook and Southern Elegance —are great for inspiration. [Sallie Buben, in the background: "Our chess pie comes out of that!"] But it's more for ideas—we'll see a recipe for molasses cookies and think, "What if we did a bourbon mousse on a molasses sable?"
Barton Seaver, Cafe Saint-Ex
"I vowed to teach myself French so I could read Ducasse"
How do you use cookbooks? I have never, other than pastry, made an exact recipe out of a book. But I have dozens of little notebooks that I religiously keep, full of ideas from cookbooks. And on a Tuesday afternoon when I'm hurting to come up with creative ideas, I flip through them.
What kind of books do you use the most? There's Julia Child, there's The Joy of Cooking , and then there's definitely that Ferran Adria category of, "That's awesome! I'm never gonna do that." But in between are books that explain how to think about food, how to become fluent with a set of ingredients. Those are the ones I keep going back to.
Which ones fall into that category? I'm thinking of Jeremiah Tower's books and Suzanne Goin—her Sunday Suppers at Lucques just blew my mind—and Judy Rogers's The Zuni Cafe Cookbook . You can tell they're emphatically in love with the food. It's not just about a recipe—it's more of an artistic statement.
Where do you get your books? Some, like Adria's El Bulli books or my Alain Ducasse books, are investments. I got them cheaper in Europe, and I vowed to teach myself French to the point where I could read Ducasse. I found that recipes are recipes—if you know how to cook in English, you know how to cook in French. Now I get them online at Abebooks.com. They have everything—$250,000 ancient Roman texts or Elizabeth David books for four bucks.
Ris Lacoste, formerly of 1789
The joy of reading Julia Child
What's the first cookbook you owned? The Nitty Gritty Quiche and Souffle Cookbook . I got it when I was living in Berkeley around 1976, and quiches were my thing for friends coming over. I made two kinds: broccoli-cheddar and cauliflower-Swiss. Any quiche I make now still uses the batter from there.
You have a library piled with hundreds of cookbooks. Which ones do you use most? Richard Olney is someone I love. His Time Life The Good Cook series is fabulous, but what I use more is Provence. He's like Julia Child. They weren't restaurant chefs, but their passion for food is unrivaled, and the thoroughness with which they studied things. Read Olney's passage on persillade—he knows so well every little leaf of parsley.
What's your favorite Julia Child book? I don't think there's a book I know or like as much as Mastering the Art of French Cooking. Again, it's the thoroughness, the contemplative time-taking. She studied the French baguette to teach women in the United States to re-create it. And she worked it, worked it, worked it until she perfected it and gave it to us.
You do a lot of teaching. What do you tell beginning cooks to read? Anne Willan's La Varenne Pratique is a really good, basic cooking class.
Katsuya Fukushima, Cafe Atlantico and Minibar
"I love Alton Brown"
How do you use cookbooks? I look at the pictures, unless it's a recipe from a different culture—like Indian or Japanese or a tagine or curry—and then I'll look at the ingredients.
What books have the coolest visuals? The El Bulli cookbooks by Ferran Adria—they're all pictures; the recipes are on a DVD. Just the photography alone is beautiful. And I do use the recipes. I follow them to a T. At Minibar we do the liquid ravioli in calcium chloride and the liquid olive Ferran does.
Do you use any books for scientific explanation? I love Alton Brown's cookbooks. Harold McGee's On Food and Cooking is great, but you've gotta really be clear-headed to understand it. Alton's books describe things in ways that make sense and are easy to understand.