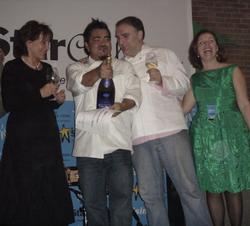 What: StarChefs.com Rising Stars Revue
Where: National Housing Center Atrium
When: Wednesday, December 13
Who: Culinary site StarChefs.com recognized 15 area chefs, pastry chefs, and sommeliers as up-and-coming food industry stars, including Restaurant Eve chef Cathal Armstrong and sommelier Todd Thrasher, Café Atlantico's Katsuya Fukushima and CityZen's Eric Ziebold. Each award recipient was there to dish up treats and pour cocktails.
Drink of Choice: Guests sampled Thrasher's signature cocktails – a cranberry flavored drink made with his homemade cranberry juice and Eamonn's Cocktail made with Irish whisky. Others sipped on champagne through a straw, a sometimes messy process due to the laws of physics, and a collection of wines chosen by Charlie Palmer Steak sommelier Nadine Brown.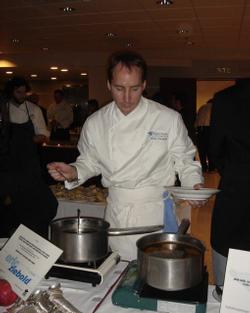 Food: Each of the honorees served up two small samplings for guests who milled around the atrium. Noshes included roasted baby beets with passion fruit gelee from the Oval Room's Tony Conte and a tartiflette from CityZen's Ziebold. Unlike many of the larger food events (Taste of the Nation say, or Capitol Food Fight), there were no long lines at any of the food stations. In fact, the biggest challenge might have been wading through the gaggle of girls surrounding easy-on-the-eyes Barton Seaver. But snagging a bite of the Café Saint-Ex chef's jalapeno-crusted waloo with a sweet potato puree was definitely worth it.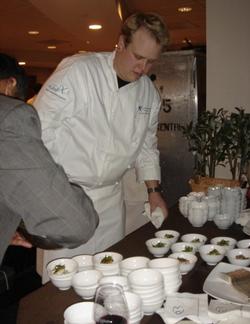 A true culinary power couple, Notti Bianche and Dish Chef Tony Chittum and his wife, pastry chef Heather Chittum, heated things up with two of the best and most popular dishes. Tony served up a rich, porcini-stuffed malfatti while Heather put an elegant spin on a campfire classic with a big city s'more.
Some of the other mmmm, mmmm good dishes included Vidalia chef RJ Cooper's truffled heirloom potatoes with crispy pork belly, Perry's chef Noriaki Yasutake's sushi-version of fish and chips, and Belga Cafe chef Bart Vandaele's venison and couscous waffles. Kinkead's pastry chef Hichem Lahreche and Maestro pastry chef Tom Wellings rounded out dessert – and guests bellies – with respectively, a pineapple tatin and milk chocolate crema with chicory. It was worth the extra mileage on the treadmill.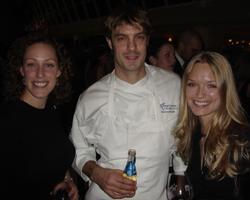 Culinary Circles: Also there were Restaurant Association of Metropolitan Washington president Lynne Breaux dashed, and such bloggers and writers as The List's Nycci Nellis and Metrocurean.com's Amanda McClements. Mark Kuller, the incredibly tall owner of the new wine-centric restaurant Proof, towered over the crowds, winning the best views and keeping his friends' wine glasses full. Restaurant owner Ashok Bajaj, there to support Oval Room Chef Tony Conte, beamed at the number of Rising Stars who used to work in his restaurants: Barton Seaver and Todd Thrasher spent time at Ardeo, RJ Cooper worked at Oval Room, and Nadine Brown came from 701.

Big Winner: Photographer Len DePas scored big when he won the raffle, a jade range stove worth over $3,000.