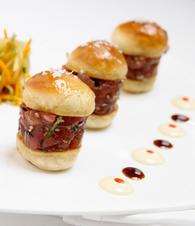 Peter Smith must love tasting menus. At his new restaurant, PS7's (a play on his initials and the address, 777 I Street), he's done away with appetizers and entrées in favor of a roster of trend-conscious bites, the sort you might find on multicourse tasting menus at innovative high-enders like Minibar and CityZen. But here those tastes come solo or in duos, trios, or quads—all on one plate.
The concept flies in the face of the big feed—oversize portions of comfort food or those macho slabs of beef at steakhouses. I hate to call it girlie food, but does this herald the feminization of dinner? The tasting-size portions are certainly runway-model friendly.
The Trio of Veal with ultra-crisp sweetbreads, tender breast meat moist with mushroom gravy, and a nugget of loin is manageable, because each little morsel is maybe three or four bites. Beef Two Ways sounds rich—short ribs with chunks of seared foie gras swathed in crisp pastry, and a noisette of pan-roasted rib eye with a round of deep-fried marrow and a slick of brie and garlic butter. But again, it doesn't sink you.
Likewise, cider-braised pork belly is a petite bowl of salty porcine flavor tempered by the sweetness of glazed apples and acidic vinegar of Savoy cabbage. A few bites and it's gone—perfect for the skinny young things in the slick blue-and-brown dining room.
Not everything works. As flavor-intense as some dishes are, others are bland, and sometimes Smith seems to be trying too hard to channel the brilliance and moxie of a CityZen or Minibar. A popcorn crust does nothing for a dewy black halibut, which gets lost in an onslaught of kernels. A cold terrine of butternut squash and goat cheese would be helped by a scatter of fleur de sel, but it's still not a dish you crave in the dead of winter. And as seductive as warm foie gras custard sounds, it's all cream and a tad too refined; it lacks the livery oomph of Eric Ziebold's version at CityZen. Worse, the oversize ramekin gives it the feel of goopy porridge.
At the bar, classics are better than chemistry-lab creations—like Restaurant Eve, PS7's has a drink roster that reads like a dinner menu. One delicious exception is the chocolate egg cream spiked with ten-year-old Islay whiskey, a cocktail that could double as dessert.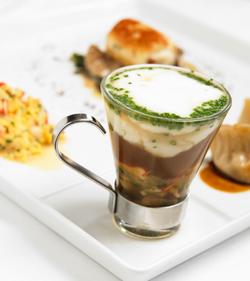 Smith unleashes some of his most winning ideas with nibbles in the lounge. Fried oysters, lined up shell and all on a ribbon of coarse kosher salt, are crusted with a dab of soufflélike bacon mousse. Veal-cheek chips are petite and refined enough to work as a bar snack—the thin, breaded slices of fried meat remind me of chicken-fried steak, albeit an almost dainty version of the roadside-diner classic. Crispy shreds of duck confit mate beautifully with fingerling potatoes and bits of melted brie. Study of Foie Gras revolves around a seared slablet on finely chopped quince—one of Smith's best flavor matings. Tuna Sliders are a showstopper, cilantro-flecked tartare on buttery toasted Parker House buns courtesy of pastry chef Naomi Gallego, who, like Smith, is a Vidalia alum.
Gallego's first salvo, the bread plate, is inspired as well: tiny cottage-cheese-and-dill rolls, walnut rolls, and the flakiest of bacon biscuits shot through with apple. She keeps it up through a lineup of well-crafted desserts. Lemon-olive gelato would be brassy on its own, but Gallego sets it atop a mound of candied beets and pairs it with airy Valrhona mousse for an explosion of tastes, textures, and visuals. The crème frite, fried cream with delicate pear sorbet, is equally sublime.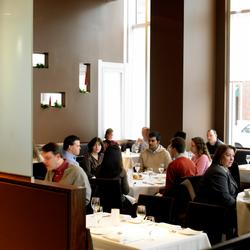 After some postopening jitters, PS7's seems to be settling in. Early on, neither food nor service lived up to the billing—PS7's had been cast as the next big thing on the DC dining scene, a high-style playpen for foodies.
Five months later, there's a new feeling of attentiveness, a desire to feed and please. Culinary adventurers, along with a Penn Quarter neighborhood crowd, have taken to dropping by. So far, PS7's is not a groundbreaker in the mold of Minibar or CityZen, but it is often riveting and frequently delicious. Whether PS7's will satisfy depends on how open you are to experimentation—with food, format, portion size, and playing with the notion of what we call dinner. In the tumultuous world that is the dining scene, some restaurants are instant successes, others need a little time. PS7's moment may have just arrived.
PS7's
777 I St., NW; 202-742-8550; ps7restaurant.com. Open Monday through Friday for lunch, Monday through Saturday for dinner; lounge open 11:30 to closing.
Prices: Lounge menu $10 to $24, dining room $10 to $23, five-course tasting menu $77.
Attire: Stylish casual to suits.
Noise: Can get loud in the lounge, quieter in the dining room.
Best dishes: Tuna Sliders, fried oysters, short ribs with foie gras, lobster with scrambled eggs, veal breast with wild-mushroom ragoût, lobster sausage, cider-braised pork belly, fall-spiced crème frite, Valrhona mousse with lemon-olive-oil gelato and candied beets.