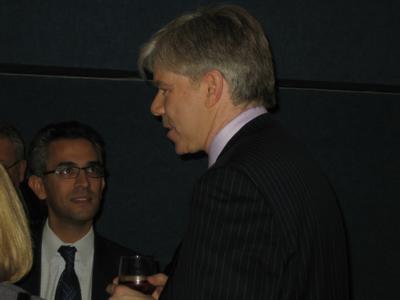 Last night, White House Press Secretary Tony Snow finally had a chance to ask the questions. A panel discussion with Snow and six members of the White House press corps gave the oft-attacked Snow an opportunity to turn the tables.
What: Reception and Panel Discussion with White House Press Secretary Tony Snow and Members of the White House Press Corps
Where: National Press Club
When: Private Reception, 7 p.m., Panel Discussion, 8 p.m.
Who: CBS's Bob Schieffer provided opening and closing remarks. Snow's targets were NBC's David Gregory, Sheryl Stolberg of The New York Times, Terry Hunt from the Associated Press, Mark Knoller of CBS Radio, Newsweek's Richard Wolffe, and April Ryan from American Urban Radio Networks.
A pre-event reception had an air of excitement. Would Snow take this opportunity to pick on the people who pick on him every day? During Scheiffer's opening remarks, he referred to the panel as a "man bites dog story" and told Snow this is his chance to "get even."
Not surprisingly, Snow's first question went to David Gregory, who has earned a reputation as an outspoken showman in the Bush White House. Snow asked Gregory how often he wishes he could have a do-over at the end of the day. Gregory replied that he never wants his reporting to be personal and added that tempers tend to flare unintentionally in the heat of the moment. Gregory's diplomatic response set the tone for the evening—it would be a friendly, not contentious, discussion.
As Snow and the press corps loosened up, both sides began to joke with one another. When asked if he gets nervous during a press conference with the President, Wolffe said, "My heart starts to beat fast—and not in a romantic way." At one point, Snow's BlackBerry went off and he quipped, "The President says hi."
Snow's questions were mostly easy ones: What kind of reaction do you get from your kids from being on TV? "Not enough, frankly," joked Gregory. The best story you've ever done? Ryan and Knoller said they haven't written theirs yet. Stolberg recalled an interview with Dr. Jonas Salk just before his death. How would you rate your job on a scale of 1-10? All panelists agreed that they have the best job in the world.
The only tension arose when Snow asked Hunt if he thinks television cameras should be on or off in the press room. Hunt said he wished they were off because "people play to the cameras," an obvious slight to Gregory. In response, Gregory argued that the cameras provide transparency and are a way for the public to see "democracy in action." Then he added, "I can't control what Tony does," which was met with a room full of laughter.