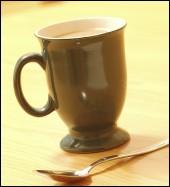 Get transported back in time—well, okay, back to 1999—by watching Gigantic (Absolute Giganten), a film by Sebastian Schipper that deals with three German friends in their mid-twenties who are about to go in separate directions at the turn of the millennium.
I know it's hard to think how watching foreign films with subtitles could be even better, but—wait for it!—it can be, with the addition of a cup of hot chocolate, served up before the movie. The hot chocolate and film take place tonight at the Goethe-Institut (814 Seventh St., NW). The hot chocolate is served at 6 pm; the film starts at 6:30.
This is the last in the series of hot chocolate and movies that the Goethe-Institut has been offering this winter, so don't miss the chance. Tickets (which you can purchase here at their Deeper Look series) are $6; students and seniors, $4. Call (202) 289-1200 for more information.