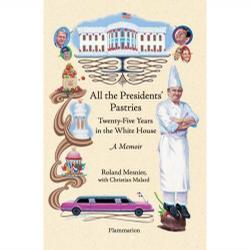 Former White House pastry chef Roland Mesnier worked under five presidents–from Jimmy Carter to George W. Bush–and though his new memoir, All the Presidents' Pastries, is mostly an ego-stroking celebration of his culinary ingenuity, there are some fun anecdotes in between.
I interviewed Mesnier–who now teaches at L'Academie de Cuisine–a couple years ago and he's a wickedly funny natural storyteller, so it's worth dropping in on his reading tonight at Olsson's in Penn Quarter. You can ask him about President Clinton's myriad food allergies, Amy Carter's after-school cookie-baking, or Barbara Bush's military-like eating rules for everyone in her family. But to really get him going, ask what it was like working for Nancy Reagan.
Roland Mesnier is at the Olsson's Lansburgh (418 Seventh St., NW) Wednesday, February 28 at 7 PM. Free.