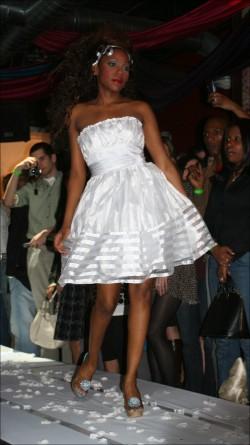 Fluffy dresses in bright, girly colors with feminine details like bows and flounces dominated the runway at Avenue Friday when DC Fashion Week presented the Betsey Johnson Spring Collection.
The nightclub, on New York Avenue near Mount Vernon Square, was packed. An open bar offered a selection of drinks, and a young, fashionable crowd gathered to see the show. The question on everyone's mind was whether Betsey Johnson would show up. Would she be cartwheeling out on the runway, as she has been known to do?
White rose petals were sprinkled over the narrow white runway. Just before midnight the crowd, mostly women, stood packed along the runway, and musical guests The Opposite Sex started playing a mix of rock and punk, a perfect fit for the wild-and-crazy image of the designer. It would have been a delight to get to see Johnson's energy in real life, but in the end she didn't show. Still, we got to see her beautiful and sometimes over-the-top creations strutted down the rose-petal-covered runway.
Betsey Johnson's dresses strike an exciting balance between full-on rock'n'roll and delicate femininity. She uses beautiful prints and decorates them with details like large bows on the back, waist, or bodice. Her cupcake-style dresses were my favorite, and a great match for her mid-waist leather jacket and pumps. To girly it up, you could add her shawl and strappy sandals. Her bright, happy colors—sapphire, green, ruby red, and her signature pink—flounced down the runway like so many gems.
Friday's show proved that you can act and look like a rock star and at the same time wear a girly pink dress—and therein lies Betsey Johnson's great appeal.
A few more pictures behind the jump.