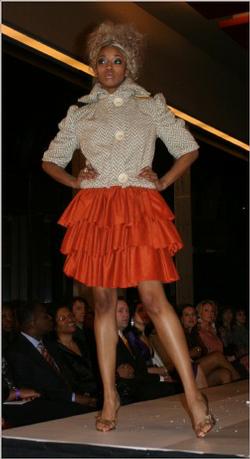 DC Fashion Week ended Sunday with the International Couture Collections Show at the French Embassy. The grand finale offered both couture and ready-to-wear clothing for women. The event was truly international, with several collections inspired by Eastern Europe, Africa, and South America.
Designers such as Estella Couture and JD7 Couture, influenced by African culture, used layers of colorful fabric to create extravagant pieces. Valentina Vidrascu, born in the Eastern European Republic of Moldova, created designs inspired by the national costumes worn by her country's ancestors for centuries. But the designs that caught my attention in La Maison Française's ice-cold space weren't culturally specific.
The Baltimore duo Devon Jones and Brandon Boardley showed a fantastic collection from their label, Descai. It was a mixture of couture and ready to wear— trendy and young but very sophisticated. I would wear every piece. The colors were mainly earth tones such as brown, orange, dark blue, and a natural, soft white. My favorites included a beautiful denim coat with feminine details such as puffy shoulders and a brown belt; detailed and refreshingly pretty velour dresses; and a natural white silk jacket, again with puffy shoulders as well as a belted waist and high collar. I loved this collection.
The day before, menswear designers had a show at the Holiday Inn Capitol. With a buffet table of cheese and crackers, exotic fruit dipped in chocolate, and an open bar, this was the week's most extravagant event.
The men's runway was, of course, dominated by suits. But there were also slightly edgier designers, such as Andrew Nowell, who showed uniforms mostly in black with a style that reminded me of SWAT teams, the Secret Service, and the Army. Ean Williams—the man behind the label Corjor International and executive producer and director of DC Fashion Week—showed his men's collection on Saturday and his women's on Sunday. The men's was mostly night wear, while the women's was filled with sparkling dresses and intricate hats with fantastic details.
DC Fashion Week is over for now. But prep yourself for September, when it makes a triumphant return.
More pictures below.