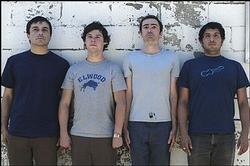 A perfect mix of melancholy wistfulness and sweet, delicate pop, The Shins have blown up over the past few years. From their notable presence in the film "Garden State" to rave reviews for their albums, they're a certified indie rock success. And lucky for those in DC, they're coming to play a show at DAR Constitution Hall on Monday, March 12. But unluckily for some, the show sold out almost immediately.
And that's where After Hours comes in! We have one free ticket to give away to the show, to one blog reader. All you have to do is email candrews AT washingtonian DOT com with the subject "Shins Giveaway." In the body of the email, tell us one event (be it a concerts, readings, films, anything!) you're most excited about and why, coming up in the next month in the DC area. The best selection will get the ticket, and your event put into our weekly recommendations.
Got it? For any other questions, you can email that same address. Good luck!