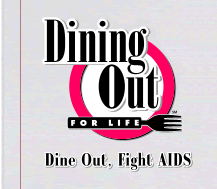 Here's some great motivation to go out to eat on Thursday, March 8. 150 restaurants in Maryland, Virginia and the District will be donating a percentage of their sales to Food & Friends, a local nonprofit that delivers free meals, groceries and nutrition counseling to people living with HIV/AIDS, cancer, and other serious illnesses.
Carlyle, Addie's, Freddie's Beach Bar, and Ristorante Tosca get props for donating 100 percent of Thursday's sales. Other restaurants have pledged 35 or 50 percent of their tabs.
Under normal circumstances, I don't need much arm-twisting to visit Colorado Kitchen, Heritage India, Sushi-Ko, or Corduroy, among other favorites on the list. But their participation in Dining Out For Life is an extra reason to pick one and drop some cash there on Thursday. I'll be ordering an extra course or splurging on a drink or two for such a worthy cause.
View the complete list of participating restaurants here.