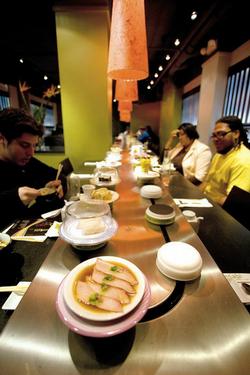 Dinner as theater shows no signs of flagging, with spritz bottles, test tubes, and jewelry boxes appearing on restaurant tables. The latest? The conveyor belt.
They've been popping up in area sushi bars. Some are the centerpieces of trendy restaurants, like Sushi Go Round & Tapas in the annex to DC's Verizon Center, and Wasabi, a new spot on downtown DC's 17th Street. Others are additions to neighborhood mainstays, like Bethesda's Matuba. The 1½-year-old Asahi Kaiten Sushibar in Ballston Common takes its name from the Japanese word kaiten, for this rotary dining system.
Do the conveyors serve up anything more than a fun show? Tiny color-coded plates snatched off the belt stack up quickly—most little plates hold just half a maki roll (three pieces) or two pieces of nigiri. So the bill can add up fast.
Hot dishes also make their way around the belts at Wasabi and Sushi Go Round. A diner can't tell how long some have been there.
After several tastes from the belt at Sushi Go Round, we asked a server for a menu. We took her up on a recommendation of the DC Diva roll and were glad we did. The generous roll was stuffed with fresh crab, avocado, and black caviar and had pristine slices of tuna and salmon on top. We asked if the Diva ever made an appearance on the conveyor. "This one?" our server replied. "No." The made-to-order sushi was a big step up from anything we consumed from the belt.
Some diners might be charmed by the novelty of the conveyors, but lovers of authentic sushi will likely be going beltless.