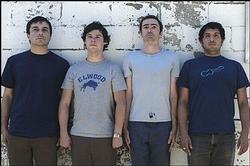 I asked, and you answered in droves. Our ticket giveaway for The Shins concert at DAR Constitution Hall this coming Monday was a success. Lots of readers weighed in on the upcoming events they are most excited about. I got to read about everything from the Lobster Boy Ship of Fools burlesque event at the Birchmere April 1, to a new indie-pop dance night at the Black Cat March 16, to Johnny Dowd's performance at Iota on Thursday, March 22 (he's been called "Johnny Cash reinvented by Quentin Tarantino").
But my favorite reader-submitted event was sent in by Rob Hillard, who alerted us to the following:
"On Monday, March 26, Randall the Enamel Animal will be unleashed at Birreria Paradiso (3282 M Street NW), the DC beer lover's basement bar hidden below Pizza Paradiso in Georgetown. Randall is not some uptight Belgian brew or ancient Flemish-style ale meant to be sipped, sniffed, or snorted from a crystal snifter. Rather, he is a three-foot-long cylinder-filter that is packed with a half pound of whole leaf hops and then affixed to the beer line of a tapped keg of beer. Officially known as an organoleptic hop transducer module, this cool tool was designed by the mad brew scientists at Dogfish Head Brewing Company in Rehoboth Beach, DE. When combined with a high-alcohol brew like the award-winning Dogfish Head 90-Minute IPA, the beer filters through the Randall, grabbing the oils off the hops and inducing the most pungent and glorious fresh hop experience known to man (or woman).

"Combine that with some of the finest gourmet pizza in DC, and you have an evening of delectable delirium."
For more information about the unleashing of Randall the Enamel Animal, click on Dogfish's site. The event takes place at 7 pm; call (202) 337-1245 for more information and pricing.
Congratulations to Rob, and many thanks to everybody who entered the contest. Keep checking back for more ticket giveaways.