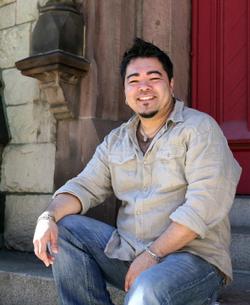 Katsuya Fukushima, the chef at Cafe Atlantico and minibar in Penn Quarter, is known for such out-there creations as saffron gumdrops and foie gras cotton candy. But what does the Aberdeen, Maryland native eat on his own time? (Hint: It doesn't involve a Pacojet or an aerator). I hung around his barely-used home kitchen (he says he's never used his oven once, and sure enough, it's stashed full of pots and pans) and talked about his kitchen favorites.
Favorite dish of all time: Meatloaf. It started from my mom. She makes the meatloaf with the whole boiled egg on the inside and ketchup. I love meatloaf.
Favorite midnight snack: I like Domino's pizza. Thin crust. Pepperoni with pickled jalepenos.
Favorite junk food: I love junk food! Chips, I guess. Dorito's. I like the new ones–the habaneros.
Favorite drink: Bourbon–Maker's on the rocks. But I found a new one recently–it's called Pappy van Winkle. A friend of mine took me to the bar Bourbon and that's my kind of place. But I also like Dr. Pepper and Mountain Dew and Red Bull. I drink Red Bull a lot,and it's not because I like the buzz–I like the flavor. I made a dish with it before at Verbena in New York. It was a gelee of Red Bull and lychee, and we poured vodka on top. It was a little gourmet jello shooter.
Favorite hangover cure: Apple juice. I don't know–it always works.
Favorite fast food: I love burgers. I do like McDonald's, but I'd pick Wendy's. I used to work at Wendy's when I was in high school. We used to make our own patties, so I knew it was beef. I was on the A-team. It means you work at different stations and you get proficient and you excel and you get a pin.
Favorite breakfast: I love anything with eggs. French toast if it's dipped in egg, fried egg, poached egg, omelet…
Favorite local restaurant (outside the Jose Andres empire): I'd say Zaytinya or Jaleo, but I like Komi, and I like Sushi-Ko a lot. I've been going to a lot more New York restaurants. But when I'm here, Clyde's is comfortable–there are a lot of people that work there that used to work for us. So I feel like Norm from Cheers when I go there. Before my diet, I'd get burgers, the reuben, the cheese…
Favorite birthday treat: Meatloaf. I'm not a big dessert person. I like cakes, but I'd rather have an extra serving of meatloaf.