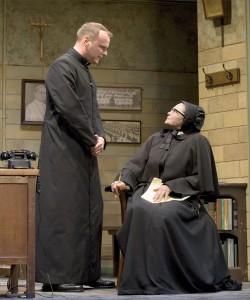 Looking for more theater to see this weekend? In addition to our review of Family Secrets, our theater critic Leslie Milk just saw the premiere of Doubt at the National Theatre (1321 Pennsylvania Ave. NW), and says that it "deserves every accolade it has received and more":
"The play is a tour de force for Cherry Jones, who reprises her Tony-award-wining Broadway performance as Sister Aloysius. She is mesmerizing—witty, wily, unyielding, and unimpressed by the changes in the church. Washington audiences are lucky to have Jones gracing the stage at the National."
Read the full review here, and keep an eye out for more Washingtonian.com theater reviews coming your way.