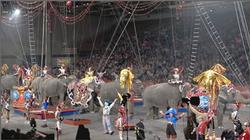 Looking for something different to occupy you on your lunchtime break? The Ringling Brothers and Barnum & Bailey Circus Pachyderm Parade is in town today, starting up at 32nd and D Streets SE at 12:30 pm and finishing up at the Verizon Center this afternoon.
Circus officials say that the best place to see the elephants on parade is around Union Station in the early afternoon. You can expect crowds lining the street to catch the spectacle, as well as PETA protesters out in full force, protesting the circus's treatment of elephants and other animals they use in their show.
If you can't make it to the parade, you'll have plenty of chances to see the Ringling Brothers and Barnum & Bailey Circus, which is in town at the Verizon Center Thursday through Sunday. Tickets run from $14-$85. Purchase tickets and check out times over here.