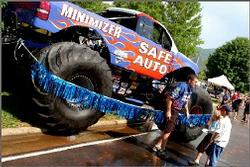 If you're up for a bit of a trip, monster trucks are rolling into Richmond this weekend for Thunder Nationals at the Richmond Coliseum.
As many as four trucks race at one time and smash stacks of cars. There's no dirt, and you won't see trucks go airborne off ramps.. But there are contests for popping wheelies, carving donuts, and freestyle driving. Saturday also includes a "pit party" open to all ages where fans mingle with drivers and check out the trucks from 5–6 pm.
Party passes are free and available at local Toyota dealers (call to confirm they still have them available).
Shows are Friday and Saturday nights and Sunday afternoon. Tickets cost $10 to $20 ($2 more on the day of the show). They're available at the Coliseum box office and through Ticketmaster.
Thunder Nationals
March 16–18
601 East Leigh Street, Richmond
$10–$20