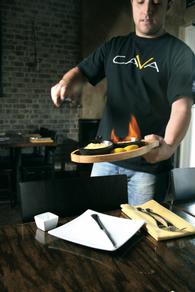 There are no evil eyes, ropes of garlic, or amber worry beads in sight at Cava. And no Zorba-invoking bouzouki, either—the tunes here are Greek and Euro dance mixes. The menu of mezze—small plates to share—reads like what you might find at an ouzeri in Athens's chic Kolonaki neighborhood. An industrial, painted-cement floor ups the hipness quotient while a wine-and-martini bar woos North Rockville's young and restless.
Cava's young Greek-American owners, Ted Xenohristos, Ike Grigoropoulos, and Dimitri Moschovitis—all childhood friends—are thinking outside the clichés. This is not your neighborhood Greek diner, with its combo plates of reheated spinach pie and oil-laden moussaka. Nor is it a boundary pusher like José Andrés's fashionable DC mezzeteria, Zaytinya—the pita bread, for example, is bought, not house-made. Cava is a new wrinkle on the family-run ethnic eatery. It's got the heart and soul of the original, but slicker, more stylish production values.
It feels very much like a family affair. The owners' fathers—two are contractors—built the place. And various brothers work as waiters and bartenders. Xenohristos and Grigoropoulos waited tables together at the popular Olazzo in Bethesda. Moschovitis, the chef, put in stove time at Kinkead's.
Cava's modest prices, the waitstaff's good cheer, and specials on slow days—$5 martinis on Mondays, half-price bottles of wine on Tuesdays—are the kind of attributes that made Olazzo such a success. But the restaurant has something else: a serious chef with a native feel for Greek cooking whose time in one of DC's top kitchens shows.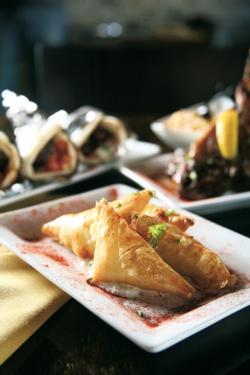 In Moschovitis's hands, old faithfuls like tiropita, the familiar cheese phyllo triangles, are crisper and creamier—he spikes the crumbly feta with smoother goat cheese. Likewise, taramasalata is at once fishy and buttery, more vivid than at most places. And though it probably deserves a better name, Crazy Jalapeño Feta, the chef's own riff on a dip, wows with its intensity—salty, pungent cheese pumped up with fiery chilies.
Kinkead's alumni are known for their frying know-how, and Moschovitis is no exception. Bits of cod dressed with a spritz of lemon, brittle French fries with the scent of olive oil and a scatter of cheeses, knobby puffs of shredded zucchini—all are greaseless wonders. Airiest of all are shrimp loukoumades. Moschovitis has borrowed the batter from Greece's popular take on the doughnut. Here he binds whole shrimp in a beignetlike batter and pairs the crispy fritters with spicy, harissa-spiked aïoli.
Seafood gets loving care, too. Tender grilled baby octopus goes tart with a splash of vinegar, while whole fish (usually a bronzino) comes to the table adorned only with grill marks; it's charred crisp on the outside yet dewy within. Even the ouzo-infused shrimp dish opa opa, reveals a light touch.
Meats aren't overlooked, either. Mini souvlakia filled with pork, tomatoes, and tzatziki are two-bite thrills; grilled meatballs get hits of flavor from oregano, dill, garlic, and lemon. The grill also does wonderful, smoky things for garlicky house-made "village" sausages. Mini lamb chops are a mite overcooked by American standards—well done is the norm in Greece—but they're still hard to resist.
One of the most striking plates is a vegetarian dish, and a Moschovitis original: gently roasted cubanelle peppers stuffed with a savory mix of arborio, feta, and keflograviera.
As large as the menu is—four dozen items—there are precious few clunkers. One is the out-of-season watermelon "salad," a toss of mushy chunks of watermelon with feta. I like the combination—it was a fixture on the Sunday dinner table when I was growing up—but the execution needs a rethink.
Although the gently priced wine list sports a handful of Greek whites and reds and the cocktail menu more than a dozen martinis, only one ouzo makes a showing—the super-smooth Plomari from Lesvos. Other good ones, like ouzo Mini, would be worth adding to the list.
Cava's approach to dessert also baffles. The house-made loukoumades with honey, walnuts, and cinnamon are ethereal. Karidopita, a moist, grainy cake of walnuts mated with pistachio ice cream and a dab of cherry preserves, is a close second. But baklava and galakoboureko, a custard-filled phyllo pastry, are both brought in from outside and not on a par with the rest. Which raises the question: Why have them?
Cava already has the look of a veteran. The volume crescendoes on weekend evenings, when families, couples young and old, and singles converge, often in large groups. The sharing of mezze has been celebratory since the custom began in the Old Country. At this stylish Greek-American in northern Rockville, nothing has been lost in translation.
Cava
9713 Traville Gateway Dr., Rockville; 301-309-9090.
Open Monday through Friday for lunch, daily for dinner.
Neighborhood: North Rockville
Dress: Casual
Noise level: Can get loud on the weekends; even during slow periods, the Euro/Greek dance track goes on and on.
Best dishes: Arborio-stuffed cubanelle pepper, housemade Greek sausage, Crazy Jalapeño Feta, taramasalata, tiropita, grilled meatballs, whole fish, loukoumades, opa opa shrimp.
Price range: Mezze plates $3.95 to $10.95.