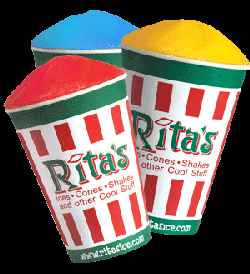 Skip the hot chocolate and soup du jour today. Spring has officially sprung, and even if it's not exactly flip-flop weather, you can get in the spirit with a refreshing (and free!) icy treat.
In honor of today's vernal equinox, the Woodridge location of Philly-based Italian ice chain Rita's Water Ice is offering free regular-sized Italian ices and cream ices all day. (Sadly, you still have to pay for gelati, Misto Shakes and Blendinis). Rita's will rotate ten to 12 flavors (including a few that are sugar-free), ranging from raspberry lemonade to vanilla, passion fruit, mango, green apple and the classic cherry. Last May, co-owner Angela Brock's store—the only official Rita's in DC, though another is slated to open in Adams Morgan mid-May—whipped up 800 giveaway ices. Brock is prepared for an even greater rush today. But, she promises: "We won't run out, no way."
Another celebration of ice is happening at Dunkin' Donuts. For today's entire 24 hours, every store in the DC area will offer a free 16-ouncer of their double-brewed iced coffee. As the coffee and baked goods mega-chain serves 2.7 million customers around the world per day, the double-D can spare a few free cups of ink. They even created an invitation for friends to send reminder e-mails.
Rita's Water Ice, 2318 Rhode Island Ave., NE; 202-636-RITA.
Dunkin' Donuts has 103 locations in DC, Maryland, and Virginia. Click here to find one.