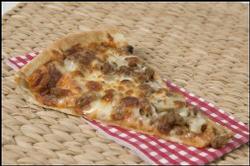 Do you love pizza? I mean, do you really, really love pizza? Can you stuff slice after slice in your mouth without even giving it a second thought? Are you at one with pepperoni?
Then you've got to head out to the Palace of Wonders (1210 H St. NE) this evening, where the freak-show-style bar is hosting a pizza-eating competition. Better yet: they'll be serving pizza from Radius, the Mount Pleasant pizzeria that's gotten lots of buzz for its excellent New York-style pies.
Anyone can sign up at 9pm; the eating competition commences at 10:30. Winner gets a free bar tab, and free pizza—that is, if you even want any more, ever again.
Call the Palace of Wonders at 202-398-7469 for more information. And happy eating!