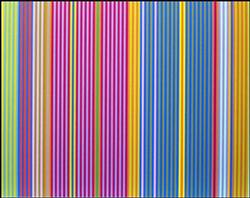 Need a dash of color injected into your daily routine? Go to some of the dozens of events that are part of the 2007 ColorField remix at area art galleries and venues.
ColorField remix, which runs through July, is a citywide celebration of the Color Field visual art movement from the '60s as well as the Washington Color School, which put DC on the art world map. The Washington Color School focused on abstract works of art using stripes and washes single paint colors on canvas.
More than 30 galleries are celebrating with everything from shows to lectures to public art projects, like students from the Corcoran College of Art + Design painting Gene Davis-inspired stripes down Eighth Street between D and E streets in Northwest.
I'll definitely be checking out the three exhibits opening at Hemphill (1515 14th Street, NW) on April 13, including "Portia Munson: Pink Project," which is entirely made up of pink objects from disposable razors to My Little Ponies.
I'm also excited about the Corcoran ( 500 Seventeenth Street NW) hosting "WPAC Experimental Media Series: ColorField Remix," in which artists were challenged to reinterpret Color Field style in multimedia formats.
And the Phillips (1600 21st Street, NW) will be home to "Lyrical Color: Morris Louis, Gene Davis, Kenneth Noland, and the Washington Color School," which highlights works from the museum's permanent collection.
For a complete list of events and more details and information, click over to this site.