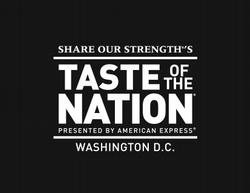 In the mood for something buttery from Acadiana? Or maybe a delicate whimsy from PS7's? Or something classic and decadent from Colvin Run Tavern? On April 9 at the Washington Hilton (1919 Connecticut Ave., NW), you can satisfy all your cravings in one place. Taste of the Nation, the annual gala that benefits the hunger-fighting charity Share Our Strength, will feature bite-sized samples from 50 area restaurants– which also include Kinkead's, Vidalia, and Charlie Palmer Steak— plus wines from 20 vineyards.
There will be a live and silent auction (dinner for 15 at Bebo Trattoria; a private shopping party at Hu's Shoes), and for dessert, a chocolate bar will feature confections from Buzz Bakery, Farrah Olivia, and the soon-to-open Hook.
A $75 ticket gets you access to the tasting, which starts at 7 PM and runs until 10. $110 gets you into that plus a tiki lounge, which will feature drinks from Restaurant Eve's Todd Thrasher, Central Michel Richard's Brian Zipin, and Firefly, and sushi from Oya. And a $200 ticket gets you an all-access pass, plus admission to a tasting preview starting at 6 (VIP tickets also include a gift bag, special seating, and access to a full bar).