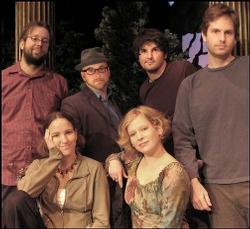 Cloud Cult is a band with a mission. Sure, it produces excellent indie rock with nearly spiritual crescendos and catchy melodies, and it plays visually arresting shows. But the band members are passionate about the environment, going so far as to create their own CD packaging and planting trees to offset the carbon emissions they're responsible for. Lead singer Craig Minowa took time out from biodiesel refueling on the road to answer a few questions for After Hours on the phone. Make sure to catch the group tonight at the Black Cat (9 pm, $10)
You've played DC a couple of times, including a show at Iota last year. How is it?
Yup, we were there a couple of times in 2006. We ended up at Iota, and also as part of the Damfest show. The Damfest show was sold out, and Iota was a good-sized crowd. It was fun. DC's a good place. Never played the Black Cat, though.

You guys have an incredibly strong environmental message—what are some of the measures you take to promote the message? Can you talk a little bit about the environmentally friendly actions your record label takes?
We do the environmentally friendly replication of our own CDs. We were looking around and realized there weren't any companies out there replicating CDs in an environmentally friendly way, so we just went ahead and did it, and we came up with our own label to do that. It's all 100-percent post-consumer recyled, no unnecessary ink, all that stuff. And this tour we're doing totally biodiesel. We're even at a stop right now, somewhere near Indianapolis, because we're playing Columbus tonight [Tuesday] . It's been a little more difficult than we imagined, because there aren't exactly a lot of biodiesel stops in the Midwest for some reason. I mean, usually when you're touring you can be like, okay, this is a good place to stop, I gotta go to the bathroom, wherever. But when you're doing the biodiesel thing and planning around that, it's like, "Oh, it's 350 miles till the next stop—oh, crap."
Besides buying biodiesel, how else do you stay environmentally friendly?
Well, we try to figure out how much energy we consume at venues and hotels, we figure out how many amps we're consuming per show. We do it annually, so over the course of a year, we figure out that we played 150 to 200 shows this year or whatever, so we consumed this much energy, and we had this much airfare, and this much mileage, and we use online calculators to figure that out, then we pay to have that all put back into the grid.
How do you pay that exactly?
We go through nativeenergy.com for individual lifestyle stuff. Then through American Forest, we plant enough trees to absorb the emissions we've put out—for example, last year almost we had almost 1,000 trees. Of course we don't plant all of them on our own, but American Forest does most of them, but we do plant some.
Do you see any other bands or musical acts picking up on this ecofriendly message, or is just you guys fighting the good fight?
Yeah, there are other bands out there doing it to an extent. Dave Matthews is doing green energy credits. And we saw Sheryl Crow on TV this morning talking about climate change.
What would you recommend to bands, or even individuals, who are looking to be more ecofriendly?
Nativeenergy.com is one step we'd recommend for other bands thinking about being ecofriendly—it's more affordable than most people would imagine to go the green route. And we encourage fans to do online downloading, definitely—there's no waste, there's no manufacturing. The digital community is great.
The Meaning of 8, which was just released, is your sixth album. Can you talk a little bit about Cloud Cult's musical progression?
Well, like, for Hotel Puck (2001), that album took me four years to do, just sitting in the studio and sitting at home. I still prefer to do all that at home, but other band members lay down their parts in a better studio. But 80 percent of the tracks are still done in a home studio. Musicwise, the albums have evolved as we've become better musicians and better at songwriting. But Hotel Puck is still my favorite album.
And as a band, we've stayed independent through each of the albums, even though each album has sold better than the last and gotten better publicity.

Do you ever think about joining up with a label, major or otherwise?
We've met with some labels, we've thought it through. We've met with labels ranging from really indie to bigger ones, kind of across the board. But we felt we've been doing this on our own for a really long time, we know what to do, why sign over the albums to somebody else when we can keep control?

Talk a little about what somebody who's coming to see you in concert can expect.
Well, we've got two live painters on stage; they paint throughout the whole set and auction off their work at the end. Proceeds go to the touring process for right now. Then we've got a backscreen video playing, a video is created for each song. And we've got a full band, a cello and violin, then your standard band setup. We'll probably play kind of a hybrid set, half from the new album and half from our past discography.
Do you think it's important to have a visual component to a live show?
Well, visual stuff lets you have an all-around stimulating show. I don't think it's necessary for all bands to do that, but for our own project, we kind of want for the touring aspect to make it really unique for the fans, and if you're going to be putting this much energy into touring anyways, and running everything, you may as well as put out the most effort you can and do it up.

What's next for Cloud Cult?
We'll keep flowing, keep going. We've got a DVD planned, partly from the live shows and also sort of a really good biography of the individual band members and what's touring like and what we do at home. Then we'll be working on finishing the next new album and another national tour in the fall. As for the DVD, we did the video for "Chemicals Collide" ourselves, all the taping and editing, and there was a really great reaction to that, so we'll be keeping all the video stuff in house. We really prefer to just do things on our own.