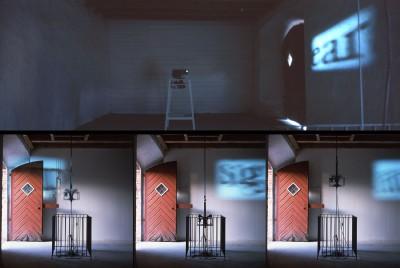 Head over to the Phillips Collection (1600 21st St., NW) tonight for a lecture by one of the most interesting installation and performance artists working in America today.
Ann Hamilton, an artist living and working in Ohio, creates installations that combine video, sculpture, architecture, photography, and more. She represented America at the Venice Biennale in 1999 with an installation that addressed slavery and oppression, and in recent work she has played with senses and body parts—the mouth and fingers, for example, become like eyes when she places miniature pinhole cameras on them. Her installations often are not framed or cordoned off, so viewers enter the art space and become part of the art. Previous works have included everything from performances by Hamilton to live peacocks. There (probably) won't be live peacocks at the lecture this evening, but you will gain insight into Hamilton's work.
Check out more photos of Hamilton's work below. Tonight's lecture is at 6:30 pm. $20; $15 for members.