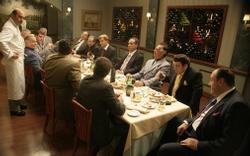 Last night, I settled into my couch for the beginning of the last season of The Sopranos. But as Tony and Carmela crowded around the table for dinner at Bobby's lake house, my mind was swayed from the grappa-fueled family dysfunction on the screen by intense cravings for checked-tablecloth classics like gooey lasagna with red sauce and eggplant parm.
So next weekend, I might just have to swing over to the bar at Nathans in Georgetown, where every Sunday night at 9 PM "until Tony says goodbye," they're airing the show on their HDTV screens, while dishing out heaping plates of pasta at what they call "family" prices. The menu ranges from lasagna for $12.75 to fettuccine alfredo with lobster for $18. Artie Bucco might not be there to usher you in, but then again, you don't have to worry about witnessing any hits either.
Nathans, 3150 M St., NW; 202-338-2000; Nathanslunch.com.