Thursday | Friday | Saturday | Sunday
Thursday, April 12: Two great local festivals get started Thursday evening. First is dccomedyfest, featuring local and national standup comedians and other comedy acts. We interviewed founder Blaire Postman about her thoughts on why DC's getting funnier. For a schedule of dccomedyfest events, click here. My recommendation? The official Late Night with David Letterman auditions. You can see some of the best under-the-radar standup comedians sweating it while Letterman bookers determine if they're funny enough to be on the show.
Then there's the Six Points Music Festival, which kicks off today Thursday and runs through April 21. Highlighting some of the area's finest local bands, the festival takes place in venues all over DC and Northern Virginia. I'll make sure to catch the Middle Distance Runner and These United States show at Iota on April 20, as well as Gist, The Alphabetical Order, and Lemonface at the Rock N Roll Lounge on April 14. The full lineup is right here.
Friday, April 13: This not-so-lucky day sees the opening Artomatic, a show that could perhaps best be described as an exhibit where anything goes. The sprawling, sometimes-inconsistent show allows entries from absolutely anybody. Some of the art can be seriously laughable, but it also gives a sense of whimsy and openness to the show. And at the very least, it's a ton of fun to explore and hunt out the gems. Plus, it's free. 2121 Crystal Drive, Arlington.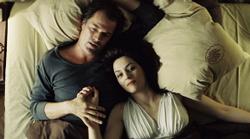 The Guerilla Film Club continues its takeovers of local venues for a party and film screening. From 6:15 to 9 pm at Civilian Arts Projects (406 7th Street, NW), $15 will get you some wine, beer and pizza, plus the company of other movie buffs. Afterward the group will walk the few blocks to the excellent Landmark E Street Cinema (555 11th Street, NW) for the screening of The Lives of Others. The German film truly deserved its Best Foreign Language Film Oscar—it's a tense political thriller that captures the lives and growing disillusionment of people in East Berlin. RSVPs required; do that here.
Baseball hero Cal Ripken is doing a book tour for his two new books, The Longest Season and Get In the Game, and he stops at the Borders in Vienna for a reading and signing. 7:30 pm, 8311 Leesburg Pike.
Need a spring touch up? Nail and makeup artists will be at the Cusp store in Georgetown (3030 M Street, NW) from 5 to 8 pm using makeup and nail polish by Chanel, Jemma Kidd, Christian Dior, and Shu Uemura. Free.
Saturday, April 14: I don't know if you can truly say that fashion actually feeds children, but DC Fashionistas is running with that idea for its event. The group is hosting "Fashion Feeds Children" at Ultrabar (911 F Street, NW) from 3 to 7 pm. There'll be clothing by local designers, accessories and cosmetics for sale, plus the ever-present free booze, music, and even massages. No cover.
If you're not of the faint of heart, this exhibit is for you. The much-acclaimed "BODIES . . . The Exhibition" will open in the former Newseum building in Rosslyn (1101 Wilson Boulevard). Showcasing 20 human bodies that have been skinned, rubberized, and even posed doing such activities as kicking a soccer ball, the exhibit is an education on the human body unlike any other. 10 am. $26.50; $18 for ages 4 to 12.
The fantastic National Cherry Blossom Festival draws to a close this weekend, and if you've yet to see anything, check out the Sakura Matsuri festival, the popular Japanese street festival from 11 am to 6 pm on Pennsylvania Avenue between 10th and 14th streets. Everything from Japanese beer gardens to arts and crafts to Japanese pop groups to Dance, Dance Revolution will be there.
Video installations+booze seem to equal the new hotness in DC. We've had a couple of great multimedia party events in the past month or so (a late-night party at the Hirshhorn and "VJ/DJ" bash at the National Museum of Women in the Arts). Tonight Project 4 Gallery brings you "Press Play," a party showcasing multimedia and performance artists from DC, Baltimore and New York. There'll be cocktails and live music. The shindig gets started at 7pm at 1520 14 Street, NW, and is free and open to the public.
Sunday, April 15: Ziva's Spanish Dance Ensemble comes to the Corcoran for an evening of its flamboyant and exciting flamenco music and dance. 6 pm, $22; $18 for members, $22 for the public.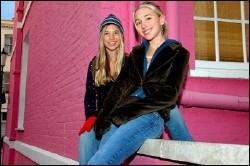 Smoosh—a sister duo that crafts pure, unadulterated pop—has played with Death Cab for Cutie, Sufjan Stevens, Sleater-Kinney, and Cat Power—and the two are only 12 and 14 years old. Dang. Catch their live show at the Black Cat (1811 14th Street, NW) backstage for $10. 9 pm.
Free French film! Stop by the National Gallery of Art at 4:30 to catch screenings of three of René Clair's films: "La Tour," a ten-minute silent about the Eiffel Tower; "Under the Roofs of Paris," a full-length feature that was his first film with sound; and a 35-minute film, "Paris Qui Dort," that is the fantastical story of an Eiffel Tower night watchman who wakes up one evening to find Paris frozen in time.