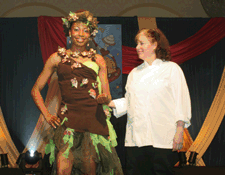 Have you ever wondered what DC United's Bobby Boswell or the Wizards' DeShawn Stevenson would look like drenched in chocolate? On Monday, April 16, at the Mandarin Oriental Hotel (1330 Maryland Ave., SW) from 6 to 9 PM, you can find out.
At the annual Sweet Charity event, which benefits literacy programs for DC children through Heart of America, there will be the usual silent auction, but also a chocolate fashion show, with "couture" made by local pastry chefs (other models include former Redskin Darnerien McCants and Minnesota Viking Chester Taylor). The whole shebang is being taped for the Food Network's Ace of Cakes series, and host Duff Goldman (of Baltimore's Charm City Cakes) –along with Sugar Rush host and Cakelove owner Warren Brown–will be on hand too.
And if you'd rather eat chocolate than look at someone wearing it, you can sample the confections of over 50 local chefs and pastry chefs, including PS7's Naomi Gallego and Peter Smith, IndeBleu's Vikram Garg, BlackSalt's Susan Wallace, and the Four Seasons Hotel's Romain Renard.

Tickets are $75 in advance, and $90 at the door. Call 202-347-6278, or click here to order.