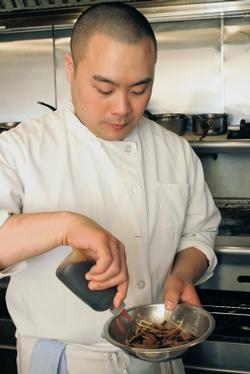 Momofuku Noodle Bar, one of New York's most buzzed-about restaurants, has Washington roots. Actually, it almost opened in DC. The 30-seat East Village ramen house, which has become a favorite hangout for such chefs as Mario Batali and Daniel Boulud, is owned by David Chang, a 29-year-old Vienna native and Georgetown Prep grad (he was a busboy at Sam & Harry's during high school) who went to culinary school after a few attempts at post­college desk jobs. When he returned from a soba-making apprenticeship in Japan with hopes of opening a restaurant, he scouted spaces here. "I had more connections in New York," Chang says. "That's what it came down to."
It's been quite a year for Chang, known for his love of all things offal (veal-head terrine, spicy tripe) and porcine (he has four country hams on his menu, and his Berkshire pork buns have become as much of a New York culinary must-have as a Gray's Papaya hot dog). Chang's second Manhattan restaurant, Momofuku Ssäm Bar, snagged a nomination for a James Beard Foundation Award (Chang is also up for the rising-star chef award), which will be handed out in May. He recently sat down for our Either/Or questionnaire.
Country ham or bacon?
People are always going to love bacon, so country ham. It's a lost art, and without people supporting the families that are third- and fourth-generation ham makers, it's not going to happen anymore. And as much as I love Iberico ham, I'm tired of it. People should start supporting the stuff that's produced in America.
Beatles or Rolling Stones?
"Honky Tonk"-era Stones.
Yoga or cigarettes?
Cigarettes. But somebody got me yoga classes, and now I feel bad for not saying yoga.
Ferran Adrià or Escoffier?
Both. They're one and the same in terms of importance.
Joël Robuchon or Gordon Ramsay?
Robuchon—he's on the Mount Rushmore of greatest chefs of all time. A hundred years from now it's going to be Ferran and Robuchon.
Kobe beef or Kurobuta pork?
The pork. I think Kobe is the most overrated, overplayed food item. Meat is such a precious commodity in Japan that you eat it in thin slices. To see it in these enormous steaks and cut up in five or six ounces, I don't think it's palatable.
Champagne or Budweiser?
Champagne, then Budweiser.
Korean-style fried chicken or Popeye's?
Spicy Popeye's.
Foie gras or toro?
Foie. Five years ago I never thought that foie gras would be banned, but I think that without support down the road, it will be. We're contemplating putting it on the menu and donating the foie proceeds to a charity.
Tabasco or sriracha?
Sriracha—it's better on pizza.
Gawker or CNN.com?
Gawker. I read it because I'm waiting to get roasted. I know it's going to happen with a vengeance. I'm nervous.