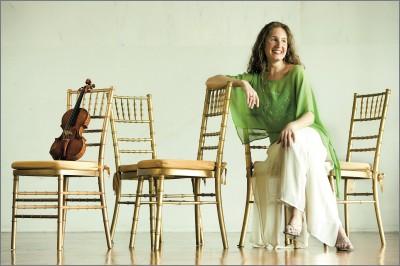 Nurit Bar-Josef is a familiar sight to symphonygoers—as concertmaster of the National Symphony Orchestra, she sits at the elbow of the conductor, and her entrance, which she makes generally dressed all in black, marks the beginning of a performance. She joined the National Symphony Orchestra as concertmaster in 2001 at the age of 26.
She began playing the violin in the first grade in Boston and as a teen played in the Juilliard School's precollege program. After college at the Curtis Institute of Music, she returned to Juilliard for graduate work. At 24, she landed the assistant concertmaster slot at the Boston Symphony, where two years later NSO conductor Leonard Slatkin asked her to audition for the DC slot. As the leader of the orchestra, Bar-Josef is part personnel director, part visionary, and part cheerleader.
Your favorite spot in Washington?
Outdoors is Great Falls. I love the Billy Goat Trail and being along the canal there. Indoors is the room where theGuarneri del Gesu violin of Fritz Kreisler is kept in the Library of Congress.
Favorite pastime?
Anything outdoors, from running to biking to hiking. Running is probably on top of the list as I do it daily.
Favorite movie?
The original Fantasia with the Philadelphia Orchestra and Eugene Ormandy conducting. I know I sound like a classical-music geek, but I grew up loving that film. They just don't make them like that anymore!
Book on your bookshelf?
The Kite Runner by Khaled Hosseini, along with the Strad magazine—a trade magazine for string players.
Favorite restaurant?
It depends on what I'm up for, but one place is TenPenh. I've only been there once, but the meal was incredible, and I enjoyed the atmosphere. Outside of DC I like Molyvos in New York—not far from Carnegie Hall. Fabulous Greek food. I always have an enjoyable time.
Favorite food?
Bittersweet chocolate.
Best meal ever?
A good ol' falafel sandwich straight from a stand in downtown Haifa or Tel Aviv. Nothing beats it! The warm pita bread fresh from the oven, and the fresh hummus, falafel, and veggies. Yum!
Favorite vacation spot?
Eilat, Israel, on the Red Sea. What an amazing place.
Your proudest achievement?
Aside from being appointed concertmaster of the NSO, my proudest day was when my mother picked me up from high school senior year and as I got in the car, she said, "Guess what? Curtis called—and you got in!" That's the Curtis Institute of Music in Philly, a difficult school to be accepted at and truly an honor to be there.
Coolest thing you've ever done?
This is going to sound completely geeky, but the best thing I've ever done is play [Austrian violinist and composer] Fritz Kreisler's violin—and even performed chamber music on it in concert—at the Library of Congress. It's every violinist's dream to even be able to hold that precious instrument.
Favorite place to hear a concert other than the Kennedy Center?
Tanglewood, the summer home of the Boston Symphony Orchestra. It's in the Berkshires, one of the most gorgeous places on earth.
Favorite piece of music?
Scheherazade, an orchestral piece with a fairly large concertmaster solo, by Rimsky-Korsakov. A truly beautiful piece.
Favorite composer?
It depends on what I'm working on at the moment. At the top of my list is J.S. Bach, especially his solo-violin partitas and sonatas. Absolutely genius. His St. Matthew Passion is also one of my favorites.
Historical figure you'd most like to meet?
I would've loved to meet Fritz Kreisler. Yes, I'm obsessed! Nobody had a sound like his on the violin. I grew up with his LPs and try to emulate that sound as much as possible. I hear he was a special human being—very warm and wonderful to be around.
Thing that would surprise others to know about you?
I'm horrible in math—even had to go to summer school in high school in order to fulfill my credits. Most people are surprised to learn this because musicians are supposedly great in math. Thank God for calculators.
What makes DC special?
My NSO colleagues make every day special. I'm so fortunate to have such wonderful people at work every day. And being such a lover of the outdoors, the fact that there are so many trails and parks right at our fingertips.