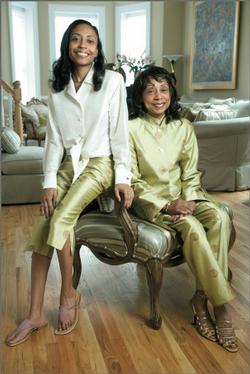 An Art for Fashion
Starmanda Bullock, 63, has been an art professor at Howard University for 38 years. Raven Featherstone, 25, followed in her mother's footsteps and became an adjunct professor in the art department.
How would you describe your style?
Star: "I'm a mixture of artsy and traditional."
Raven: "I'm very traditional, but I do wear a lot of bright pastels—pink, green, blue."
Do you have similar styles?
Star: "I'm a little bolder than Raven. I'm not the type of person to plan. I look into my closet and feel the vibration from the clothes."
Favorite designers or stores?
Raven: "I love Betsey Johnson because she always has a lot of colorful clothes. I also like Saks Fifth Avenue, Bloomingdale's, DKNY."
Star: "I like Neiman's, Saks, and Nordstrom. My favorite boutique is Art & Soul on Capitol Hill."
Is there an item you splurge on?
Star: "What is it you always say, sweetie? 'You can never have too many handbags.' "
Raven: "Exactly."
Are you honest with each other when something doesn't look right?
Star: "We give each other advice all the time. She'll say, 'No, it's not you, Mom,' and I back off."
Raven: "My mom helps me pick out clothes that look good."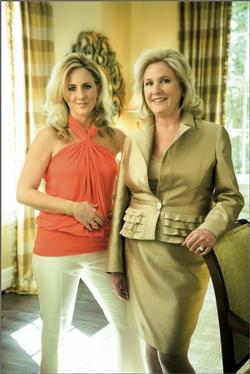 Agents of Style
Partners in a McLean real-estate agency, Penny Yerks, 58, and Piper Gioia, 35, spend a lot of time with people. They say clothes help them reveal their personalities and connect with clients.
How would you describe your style?
Piper: "Trendy. I like to wear things you would see in In Style magazine. I have a stylist on Rodeo Drive in Beverly Hills who helps me find fun, funky pieces."
Penny: "Let me put it this way: I just bought a two-piece Champagne-colored Valentino suit."
Piper: "Our styles are very different, but we appreciate each other's flair."
Who are your favorite designers?
Penny: "Valentino for evening­wear. Suits by Yves St. Laurent and Max Mara for work."
Piper: "I love my Paige and Hudson jeans, and I like to pair them with fitted Chanel jackets. Mandalay is one of my favorite designers for eveningwear."
An item you splurge on?
Piper: "I can answer that for Mom—jewelry."
Penny: "Yes, I have a problem."
Piper: "For me, it's shoes—Gucci, Chanel, Manolo Blahnik. I have a pair of Stella McCartney metallic high heels I love."
Do you shop together?
Penny: "We have been shopping together since Piper was an itty-bitty girl. We love finding boutiques in Europe and New York that have things you'll never find in Washington."
Piper: "We used to shop together every day when I was in high school. At the beginning of every season, we would take the train up to New York for a weekend."
Penny: "Piper won the best-dressed award in her high school—and she went to a Catholic school and had to wear a uniform every day."
Piper: "My senior year we could wear what we wanted on Fridays; we used to shop for hours to find the right thing."
Are you honest with each other when something doesn't look good?
Penny: "Brutally honest."
Piper: "I always trust what Mom says."
Piper, what's the least favorite thing your mother made you wear when you were younger?
Piper: "My mom used to put my initials on everything I wore. I hated it. My middle name is Lauren, so all of my sweaters had a huge 'L' monogrammed on the front. My friends nicknamed me Laverne."
Penny, have you ever tried to stop your daughter from wearing something?
Penny: "Trying to change Piper's mind is not easy. I remember when she was five years old it was a beautiful sunny day, and she decided it was going to rain, so she put on her raincoat. No matter what I said, I couldn't get her to take that raincoat off."
Have you influenced each other?
Piper: "My mother never owned a pair of jeans until two years ago, but she recently wore a pair with rips and rhinestones."