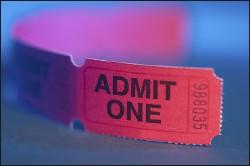 Those who caught the National when the band opened for the Arcade Fire last week were impressed by the band's charisma onstage and its moody, melodic, intense rock. In fact, I talked to several people who walked away from the show saying they'd been converted to big fans. So if the National was that good at DAR Constitution Hall, imagine how great it'll be at the 9:30 Club June 20. Tickets ($14) are on sale now.
The White Stripes bring their foot-stomping, bluesy rock to the Patriot Center July 28. Tickets ($40) go on sale this Saturday at 10 am.
It's a retro big-hair-band lineup for the ages. Def Leppard, Foreigner, and Styx play Nissan Pavilion August 17. Tickets—which go on sale Saturday, May 12—range from $31 for lawn seats to $105 for orchestra.
Don't lie—you know you think "Since U Been Gone" is the song of the decade. Okay, maybe that's just me. Regardless, Kelly Clarkson brings her American Idol-approved mainstream pop to the Verizon Center August 19. Tickets ($49.50 to $69.50) go on sale this Saturday at 10 am.
One of my favorite local acts, the power-pop Washington Social Club, plays the 9:30 Club Saturday, June 16. Tickets just went on sale for $12. Having seen the band several times at the Black Cat, I guarantee you'll (a) dance, (b) have a great time, and (c) hear catchy songs buzzing in your ears for days.