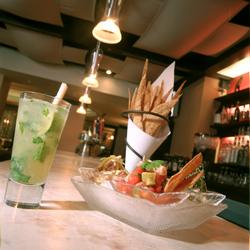 Saying that a cocktail was a favorite of Ernest Hemingway is a little like saying George Washington slept here. Hemingway, by all accounts, rarely met a quaff he didn't like. He drank dry martinis at the Palace in Madrid and bellinis at Harry's Bar in Venice. In Paris, it was bloody Marys and martinis at the Ritz Bar (later renamed the Hemingway Bar). And at the legendary El Floridita in Havana, he favored daquiris, Cuba libres and mojitos with double the rum (Papa Doble) or with a splash of grapefruit juice (Hemingway Special).

He even invented a cocktail or two of his own, like the "Death in the Afternoon," which turned up in a celebrity recipe collection circa 1935. The recipe is written in his clipped, yet evocative, prose: "Pour one jigger absinthe into a champagne glass. Add iced champagne until it obtains the proper opalescent milkiness. Drink 3 to 5 of these slowly."
Of late, local bartenders seem to have discovered the allure of Hemingway and his cocktails. Cafe Atlantico has the grandly named Caribbean Affair by Ernest Hemingway with fresh squeezed grapefruit and lime juice, rum, and vanilla sugar. At Ceviche, the pale pink Hemingway's Daiquiri Floridita is refreshingly tart and grapefruity. Ceiba's Hemingway mojito calls for fresh lime and mint, sugar cane juice, dark aged rum, simple syrup, and a splash of Champagne. It takes a bit of prep, but this cool minty cocktail is a perfect warm weather pour.

Ceiba's Hemingway Mojito
Serves 1
12 mint leaves (stems and large veins removed, leaves washed in a water bath to loosen dirt)
3 lime wedges
1 ounce simple syrup (see recipe below)
1.5 ounces Mount Gay Extra Old rum (or another dark rum)
1 ounce fresh sugar cane juice (Ceiba makes its own, but they also recommend Goya brand, available at grocery stores)
Splash of Champagne

To make the simple syrup:
Combine 1 cup hot tap water and 1 cup sugar in a small stockpot. Stir and bring to a boil. Cool before using.

To assemble the cocktail:
Muddle (crush) the mint, lime wedges, and simple syrup in a bucket glass. Add rum and sugar cane juice and stir well. Serve on the rocks and top with splash of Champagne.