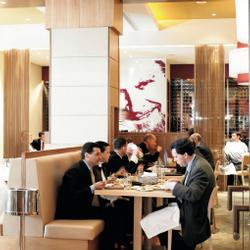 The stargazers are out in force at the granite-topped bar on a midweek evening. "Ooh," the woman at the table next to me coos to her friend, "is that Mr. Michel Richard over there? So cuuute."
Politicos and media mavens can be spotted among the nightly swarms at Central Michel Richard, but there's only one star in this house. The burly Mr. Richard may not always be around—he also has Citronelle in Georgetown to watch over—but he's made certain that his is the animating spirit. There's a big Warhol-like abstraction of him in the rear of the dining room, adjacent to the open kitchen.
Other restaurateurs plaster their walls with pictures of senators and celebrities—testimonials of their proximity to power. Richard, in flamboyant repudiation of everything this circumspect, conservative city embodies, posts his own laughing mug.
Like its namesake, Central may be in Washington but it is decidedly not of Washington. With its endless blond wood, clean lines, and air of casual brilliance, Central puts you in mind of the sort of late-night New York haunts (Blue Ribbon, Nobu) that make going out to eat seem like the most interesting thing you can do in the city. Five blocks from the White House, you'd swear you were in the heart of SoHo.
Central (the restaurant uses the French pronunciation: cen-trahl) is billed as a bistro, and the prospect of eating and drinking at a cut-rate Citronelle, the gastronomic wonder that topped our recent 100 Best Restaurants list, has brought clamorous crowds—the bar was two deep on a recent Thursday night. The place hums with energy and a sense of possibility. It's as relaxed and unpretentious as a serious restaurant gets: You can forget that glass of Pinot Noir and enjoy an ice-cold Bud.
Richard tapped Cedric Maupillier, his sous chef at Citronelle, to ensure that even with Central's gentler prices, the exacting standards that made his reputation are not relaxed. Maupillier has proved so adept at replicating the boss's stylistic touches—things that crunch, a mania for sharp edges, elegant spoofs of junk food—that the master is hardly missed. The fried oysters are made to resemble Chicken McNuggets, a crunchy hand-breaded exterior encasing a sweet, still-saltwatery bivalve. The fried chicken with buttery whipped potatoes aims to conjure up KFC, but no fast-food joint can approach this kind of slow-cooked refinement.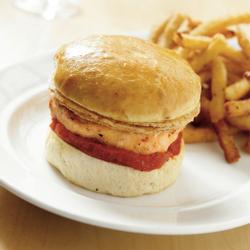 The burgers ape the symmetrical uniformity of the chains' but otherwise have more in common with the haute burgers of such New York chefs as Daniel Boulud, creator of a patty stuffed with foie gras, black truffles, and short ribs. Nothing quite matches that powerhouse, but Central's threesome—including a burger fashioned out of lobster tail and bound with scallop mousse, and one made from sashimi-grade tuna—is formidable. The hamburger is less exotic, but it's the burger of your fantasies, big and plump and dripping with juice; there's no better rendition in town. All are sandwiched between rounds of butter-slathered brioche and sided with fries so crisp and golden and perfect that they're irresistible even after they're cold—as I discovered when I pulled a leftover fry from a bag and popped it into my wife's mouth one night at home. Soon we were fighting over the remainders.
French bistro classics are also represented, although not in the way a conventional bistro would represent them. The short ribs, cooked for three days, are pressed into a mold and presented in thick, terrine-like slices that can be swiped through a steak sauce that tastes like a good wine reduction; the "faux" gras forgoes fattened duck liver in favor of chicken liver and butter whipped into an addictive mousse to spread on toast. The French-onion soup is two dishes in one: a luxurious Gruyère fondue conceals a lightly sweet, intensely concentrated broth. The onion tart is like a French pizza—a crisp, wafer-thin crust studded with caramelized onions and lots of bacon.
Next to these innovations, a plate of rotisserie chicken can seem boring. But it's expertly cooked and comes with a beautiful little salad and roasted potatoes drenched in a sauce fortified with a rich chicken stock. The cost? Eighteen dollars—less than you'd pay at a midlevel restaurant that strains to match the style of fine dining but misses the substance.
The technical prowess in these dishes is unmistakable, yet they feel so tossed off that you can't help but have a good time. The gougères—imagine a sort of mini-popover—are light, cheesy, and addictive. Asparagus vinaigrette is a beautiful, startlingly alive dish of meaty, basil-flecked stalks that give the lie to the idea that greens are good only in season. A plate of langoustines (heads on) with snow peas is the kind of shimmeringly fresh, sweet dish that seafood lovers crave—and only rarely find at seafood restaurants.
Don't come looking for the kind of elaborations and intensifications that Citronelle trades on. But rest assured, the shopping is scrupulous. Right now, no place in the city is a better bet for oysters. A dozen will set you back $32, a half dozen $16. You're paying not just for the quality, which, on a recent visit, meant oysters from British Columbia. You're paying for the attention of the kitchen staff. Each bivalve had been carefully cleaved from its muscle, there wasn't a single piece of grit in the shells, and a good pool of briny liquor was left to "sauce" the meat. There were three varieties, all uniformly plump, cool, sweet, and creamy.
You can order a Sancerre to wash them down, but a cold glass of the bracing Blusser, a German beer bottled exclusively for Richard, works as well—it has the effect of a crisp, palate-scouring white wine.
There aren't many misses, and those don't miss by much. The lamb shank, served atop a creamy polenta similar to the super-creamy whipped potatoes alongside the fried chicken, was tender but stringy. The banana split comes in a TV tray—a play on two American pop-culture classics; the ice creams are good, but the whole thing never achieves the lusciousness you expect.
For dessert look to a luxurious caramel crème brûlée or a superlative chocolate mousse sprinkled with what look like BBs but taste like miniature Cocoa Puffs. An apple brown Betty seems an occasion for an inspired riff, but it's conventional. It's also a pitch-perfect re-creation of a classic.
Artistry is rare enough. But artistry and affordability? In a city that offers too little of either, Central is cause for elation.
Central Michel Richard
1001 Pennsylvania Ave., NW; 202-626-0015. Open Monday through Friday for lunch, Monday through Saturday for dinner.
Neighborhood: Penn Quarter.
Dress: Casual.
Noise level: There's a buzz all around you, but you can converse without being eavesdropped on.
Best dishes: Oysters on the half shell, French-onion soup, onion tart, fried oysters, gougères, asparagus vinaigrette, short ribs, langoustines with snow peas, burger, fries, caramel crème brûlée.
Price range: Starters, $6 to $18, entrées $16 to $30.