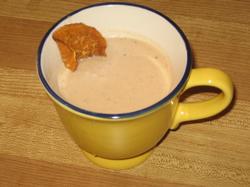 Inspired by this beautiful weather, I decided to reproduce Citronelle chef Michel Richard's summery eggplant gazpacho, which was served at a recent gala. At first glance, some parts of the recipe seemed intimidating: What's tomato water? Where do I find cheesecloth? I need a meat slicer to make the beet chips?!!
Turns out, Richard's tomato water was a snap. Cheesecloth was right there in the baking aisle of Giant. And as for the beet chips…I'll be honest: When I tasted the soup, I thought the yummy beet chip tasted much like the Terra chips I get from Whole Foods, so I garnished my soup with those. The variety bag of Terra vegetable chips doesn't include beet, but taro, sweet potato, yuca, and parsnip chips all tasted great with it. I served mine in pretty little mugs like the ones at the gala and got rave reviews. The recipe recommends adding diced vegetables to the soup, but that's optional: Richard didn't serve any chopped veggies in the version I tasted, and I liked my version without them too.
Note: Start this recipe a day ahead, as tomato puree for the tomato water needs to sit in the refrigerator overnight to drip through the cheesecloth and colander. If you make the beet chips, they also need to sit in the oven overnight.
Michel Richard's Eggplant Gazpacho
Serves 4 in soup bowls, or 6 to 8 in small cups or mugs

To Make the Gazpacho:
1 Japanese eggplant (5 ounces)
1 teaspoon olive oil
1 small onion (5 ounces), diced small
1 garlic clove, peeled and cut in half
1/4 teaspoon cumin (add more if you like more cumin)
1/2 cup lowfat yogurt
4 tablespoons tahini
Juice of 2 lemons
1 cup tomato water (see recipe below)
Salt, to taste
Pepper, to taste
Few drops of Tabasco
Beet chips, as needed (see recipe below)
Optional: Vegetables of your choice steamed and diced into 1/2-inch cubes (Richard suggests carrots)
Preheat the oven to 350 degrees. Bake the eggplant whole for 35 minutes. When cooked, cut it in half. Scrape out the flesh and place it in a bowl.
In a small pan set over medium heat, add the olive oil and saute the onion until it is just starting to brown. After 10 minutes, add 2 large pieces of garlic. Cook for another 5 minutes. Add the cumin. Cook 5 minutes more. Remove from heat.
Combine the onion and cooked eggplant in a blender (I used a food processor and it worked fine too). Add the lowfat yogurt, tahini, lemon juice, tomato water, salt, pepper, and a few drops of Tabasco. Blend until smooth. Strain and adjust seasoning.
Place in a bowl and cover. Refrigerate.
To serve, place 2 tablespoons of diced vegetables (if using) into the bottom of a bowl or mug. Pour the chilled gazpacho over top. Serve the beet chips on the side.
To Make the Tomato Water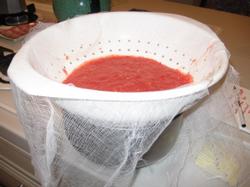 2 pounds tomatoes (can be old and cheap)
Place the tomatoes in a food processor and pulse until soupy. Place cheesecloth into a colander and set over a bowl. Pour the tomato liquid into the cheesecloth. Place in fridge overnight and the liquid drip through.
The next day, remove the cheesecloth and tomato solids (reserve these for another use ). Reduce the tomato water by half (set a small pan over medium heat),and use 1 cup for the recipe. Store in the refrigerator and keep covered.
To Make the Beet Chips
1 or 2 beets, peeled
1 cup vinegar
225 grams sugar
Using a meat slicer, slice 1 or 2 beets into very thin slices. Combine the vinegar, sugar and beet slices in a small pot and bring to boil. Cook the beet slices in the liquid for 10 minutes. Strain and dry. Place the beet slices on a silpat set on a sheet-tray. Set the oven to the lowest temperature possible and place the tray in the oven overnight. The next day, remove from oven and remove from silpat. The beet chips will be crispy and sweet-and-sour. Store in a dry container with a tight lid.