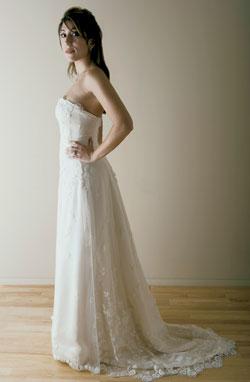 Local designer Aimeé Lauren debuted her first retail collection of bridal gowns—made with Italian silks, French lace, and natural stone beading—in October at her studio in Woodbridge.
Lauren, 37, is a former New York fashion stylist who has worked with Sarah Jessica Parker, Macy Gray, and Gwen Stefani. She has expanded her couture business to include a 15-piece ready-to-wear wedding line.
"I left New York for love—my husband," Lauren says. "I took my first couple of gown commissions from friends, and then word got out."
Lauren's collection includes strap­less, linguine strap, and off-the-shoulder designs. Any of five "blank" gowns can be customized; Lauren often incorporates precious stones that hold significance for the bride. A breast-cancer survivor, she sews a pink ribbon into the lining of each gown to remind women about the importance of early detection.
Brides can view gowns by appointment at Lauren's studio. Prices range from $1,800 to $10,000 for gowns from the collection, $2,500 and up for couture. Custom gowns take three to four months to make. Call 888-494-4945 or see aimeelauren.com.