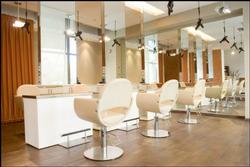 There's nothing like a good blowout from a good salon: Your hair looks perfectly smooth for days afterwards. The only problem, of course, is that 1) you go for days without showering to try to keep your hair in place, and 2) recreating the perfect blowout is nigh unto impossible.
But Salon one80 (1275 K Street, NW) aims to change that with the launch of its Blow Dry Event on the first Thursday of every month from 6 to 8 pm. Featuring appetizers, cocktails, and music, the evening lets you interact with styling professionals who give you in-depth tips on how to do a solid blowout on your own. Every attendee gets a 30- to 45-minute one-on-one session with a stylist; among the stylists is Salon one80 co-owner Remi Metsuo, named Washington's Top Stylist by Allure magazine. During the event, all retail products are 15 percent off.
To RSVP for tonight's Blow Dry Event, call one80 at (202) 842-9113 or email salon manager Glo Young at glo@one80salon.com.