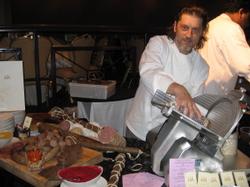 What: The 17th annual Chef's Best Dinner & Auction–the biggest fundraiser of the year for DC-based non-profit Food & Friends, which prepares and delivers meals to more than 1,300 area residents living with HIV/AIDS, cancer, and other illnesses. Seems like there are "celebrity" chefs present at every charity event these days, but more than 50 local restaurants volunteered to help out at Chef's Best—and most tasting stations were manned by the chefs themselves.

Where: The massive ballroom of the Hilton hotel near Dupont Circle.
Who: The 1,500-some guests—many of whom bypassed the $225 ticket price because their law firm or company bought a table—schmoozed with an impressive array of local chefs.

Cesare Lanfranconi of Tosca served as the event's honorary chef chair, and his station served up a delicious tomato-stuffed raviolini with basil pesto. With a huge smile on his face, Jeff Tunks dished out Acadiana's crawfish etouffee over Mahatma rice. Pork-loving Greggory Hill of David Greggory kept it simple with "pork-n-beans," and Restaurant Kolumbia's Jamie Stachowski offered a lavish buffet of his housemade charcuterie. PS7's Peter Smith made his inventive version of shrimp cocktail, plated on crunchy shrimp toasts. Jeff Buben, chef/owner of Vidalia and Bistro Bis, chatted with almost everyone who came by to taste his rustic jambon persille with pommery mustard. Pastry chef David Collier of Colvin Run Tavern added top-notch mini-slices of blueberry cake with lemon ice cream.
Scene: As soon as the ballroom doors opened 6 PM, hungry guests flooded the food stations throughout the room. A live auction hawked many a food-focused item. A wine dinner for six at the Inn at Little Washington's chef's table sold for $4,600.

Food: Lines never seemed to cease for the lamb chops from the Hilton Washington's table, but my favorite tastes included the injera-wrapped hangar steak tartare from Farrah Olivia's Morou; spiced corn chowder with avocado and crab from Anthony Chittum of Vermilion; and shot-glass sized rhubarb floats from Poste's Robert Weland. And the tasty grilled salmon and fennel salad prepared by Food & Friends' own chefs was the sleeper hit of the night.
Drink: Ketel One was a major sponsor of the event, and needless to say, their "ice luge" boasted long lines all evening. This was a big step up from the luge you knew (and loved) back in college. Bartenders asked which flavored martini you'd like (pomegranate, raspberry, citrus…), then poured the vodka through a giant Ketel One ice sculpture straight into your glass.