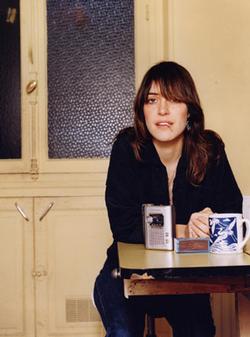 Under an inverted rainbow of lights, heavy-banged chanteuse Leslie Feist captivated a sell-out crowd last night at the 9:30 Club.
For nearly two hours the Canadian performed from her repertoire of folksy indie-pop songs such as "My Moon My Man," "1234," and "The Park" off her current album, The Reminder. Older songs like "Major Label Debut" from her days with Broken Social Scene and her hit "Mushaboom" from her 2005 album Let it Die also made their way into the set.
A native of Nova Scotia, Feist has been around the music scene for more than a decade. Most notably, she was a guest vocalist on Peaches' album The Teaches of Peaches and a member of Broken Social Scene. She has appeared on albums by The New Deal and Kings of Convenience. Her third solo album debuted in May, and she has since been touring to sell-out crowds around the US and Canada.
As impressive as Feist's vocals was the band behind her—sometimes three members strong, sometimes four. The musicians moved seamlessly from keyboard to drums to brass, guitar, and even maracas. They clearly were having a great time on stage, and their synergy created an instrumental background as rich and diverse as the voice it underscored. Feist also accompanied herself on piano and displayed her stellar guitar skills throughout the show, particularly rocking out on her interpretation of Nina Simone's "See Line Woman."
Between songs Feist engaged the crowd. "Was that epically beautiful?" she asked. She also sang an impromptu ditty about Fairfax and Alexandria, encouraged singing along, and replied to adulation showered on her from the crowd. "Go home with me, Feist," someone yelled. "Only if there's a hot tub," she quipped.
Otherwise the audience maintained an energized stillness through the haunting ballads and lyrically mesmerizing songs that held you captive till the end.
For more on Feist, check out www.listentofeist.com.