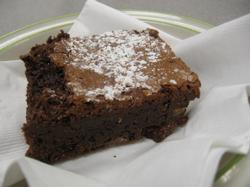 The brownie seems to be an underrated item in the bakery these days. Colorful fruit tarts, cookies the size of your face, and frosted cupcakes in pretty pastel shades get all the glory. But the simple brownie, with all its rich chocolatey goodness, is both a delicious dessert option—especially when served warm and buried under a dollop of vanilla ice cream—and an ideal afternoon snack to accompany a caffeinated pick-me-up.
But where to head for a brownie fix? Our panel of Washingtonian interns took it upon ourselves to taste and evaluate the brownie offerings from six bakeries – independents, small local chains, and big national names. Here's how they stacked up:
Best for chocoholics: Baked and Wired – 1052 Thomas Jefferson St., Georgetown
Hands down the fudgiest and richest of the bunch, the Baked and Wired brownie is great option for pure chocolate flavor without any fuss. "A chocolate-lover's brownie," remarked one taster.
Best "cakey" brownie: Firehook Bakery – 912 17th St. NW (ten other locations in DC and Virginia)
Firehook's brownie was the favorite of Washingtonian dining editor Todd Kliman, who served as a guest expert in our tasting. Brownie debates often come down to cakey vs. fudgy, and this one fell squarely in the cakey camp. One taster especially liked its "flaky," powdered sugar-dusted crust.
Best added ingredients: Au Bon Pain – 1801 L St. NW (several area locations)
A hint of cinnamon in ABP's brownie added just the right flavor for some, but to one taster, seemed "weird." The brownie was also packed with chocolate chips. One taster appreciated the addition, though another commented that "the chips just blend in to the overall mediocrity of the brownie".
Most unique flavor: Marvelous Market – 1800 K St. NW (seven other locations in DC, Maryland and Virginia)
Tasters detected unusual spice in the Marvelous brownie, noting hints of coffee. Overall, they liked its "strong flavor" and thought the "moist, crumbly" brownie had "good structure."
Gooiest: Cosi – 1875 K St. NW (several area locations)
The Cosi brownie didn't win many fans with its addition of cream cheese. Tasters found it "too mushy" and a little "too sweet."
Best for sharing: Breadline – 1751 Pennsylvania Ave. NW
Though generously portioned, Breadline's mammoth brownie was close to or at the bottom of every taster's list. Most called it "dry" and noted that the batch appeared to be a little burnt.