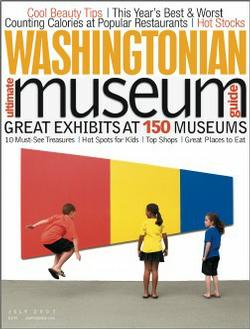 It's officially summertime, and time for you to get out there and start taking advantage of all the great stuff the Washington area has to offer. And we're here to help you do just that! Pick up the July 2007 issue of The Washingtonian, on stands now, and read about…
The Ultimate Museum Guide:Why Washington can claim to be the museum capital of the world. We have the scoop on great exhibits at 150 museums, 10 must-see treasures, hot spots for kids, top shops, best places to eat, and much more.
The Best Summer Book Ever: Reading you can't put down—mysteries, adventures, and novels about families, friendship and a summertime fling.
2007's Best & Worst: Readers like DC mayor Adrian Fenty and brunch at Georgia Brown's. They'd like to muzzle Ann Coulter. Here are this year's winners and losers from our annual poll.
Deals: Half-priced facials, bargain makeup secrets, and more.
Cool Beauty Tips: Summer haircare and makeup, the latest on hair removal and cellulite treatments, easy tans, swimsuits that hide flaws, and more.
Not Black and White: Video art offers a vivid look at race relations.
Plus tons more! Pick the issue up on stands, or go ahead and subscribe right here.