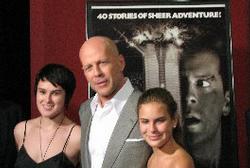 After being held up by a flight delay, heavy traffic, and a midday rainstorm, Bruce Willis arrived in town Wednesday to unveil a collection of Die Hard objects donated to the Smithsonian's National Museum of American History.
Accompanied by teen daughters Rumer and Lullah, Willis noted how it was "exciting" and "cool" for his grime-and-fake-blood-smeared tank top to be immortalized in a museum with R2-D2. A Die Hard movie poster, a John McClane detective badge, and the script for Live Free or Die Hard are also among the donated items. The script, in fact, arrived just Wednesday morning to prevent any spoilers from leaking details before the movie officially opened yesterday.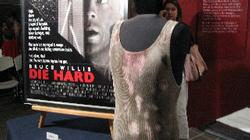 Willis said playing an action hero was fun, but he urged the crowd to appreciate real heroes, like those who serve in the military."If you see a policeman, say thank you," he said.
On other matters, Willis said he was proud of his daughters, expressed his love for Dorothy's ruby slippers—also on display in the Smithsonian—and admitted that he as not yet chosen a presidential candidate to support.
National Museum of American History director Brent Glass and curator Dwight Blocker Bowers were on hand to commemorate the addition to the museum's action-adventure genre collection. The items will be on display in the National Air and Space Museum while the American History museum undergoes renovations.