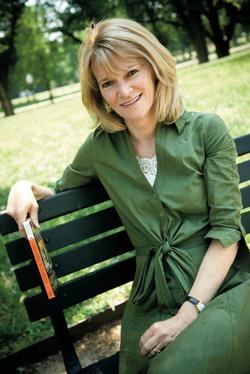 We've asked Washingtonians for good summer reading before, but this time we upped the challenge: What's the best summer book you've ever read?
ABC News White House correspondent Martha Raddatz—whose Iraq War book, The Long Road Home: A Story of War and Family, came out this year—picked two favorites. Her nonfiction choice is The Right Stuff, Tom Wolfe's account of the US space program's early days.
"It's a thrill," Raddatz says. "How can you beat a book that humanizes the superhuman pilots, lets you feel like you're flying, and then grounds you with the hideously graphic descriptions of what a difference one wrong move can make?"
Raddatz plans to reread Wallace Stegner's novel Crossing to Safety this summer:
"I find it difficult to be too frivolous with my reading. It's such a luxury on vacation to have uninterrupted reading time that I feel I should use the time wisely and learn something. But I don't want the book to have anything to do with work.
"Crossing to Safety took me to places both comfortable and challenging. It's the story of a lifelong friendship between two couples and the changes and complications life brings. The couples share a beautiful summer home—the kind that's lively and where people cook, talk, drink, and share life at its most intimate. Stegner's writing has always been an inspiration, and since the book appears to be heavy on the autobiographical, it's quite revealing as well."
Stegner's novel has another fan—Connie Schultz. She's the wife of US senator Sherrod Brown of Ohio, a Pulitzer Prize–winning columnist for the Cleveland Plain Dealer, and author of . . . And His Lovely Wife: A Memoir From the Woman Beside the Man, her account of Brown's 2006 campaign.
Says Schultz: "Stegner once said, 'In fiction I think we should have no agenda but to tell the truth,' and Crossing to Safety lays bare the truths about marriage and friendship. I've read it three times—as a young mother, as a single mother in my thirties, and more recently as a remarried woman ensconced in middle age. Each time, I learn about myself as I rediscover the people—I can't bring myself to call them characters, because they feel so real—in Stegner's story.
"Crossing to Safety is a book men are as likely to enjoy as women. Even my husband—who's spending most of his free time these days reading history books about the Senate—picked it off our shelf and dove in when he learned I was recommending it."
Marc Fisher, a columnist for the Washington Post, published his second book this year, Something in the Air: Radio, Rock, and the Revolution That Shaped a Generation.
"A great summer read," Fisher says, "is the kind that takes full advantage of your annual opportunity to ignore the clock and the spinning of the planet, that keeps you up till 3 am, desperate to finish it even though you never want it to end.
"I considered books that feel like summer—Michael Ondaatje's The English Patient or To Kill a Mockingbird—but ended up gravitating toward ones that seem dauntingly long the rest of the year yet have a certain languorous appeal, such as Tom Wolfe's A Man in Full."
Fisher settled on Michael Chabon's The Amazing Adventures of Kavalier and Clay: "It's a journey to another place and time that features driving narrative, characters who'll live with you for months after you finish, and so many laughs that I went immediately from the last page back to the beginning.
"Everything in Chabon's Depression-era New York feels just right, and he combines high and low seamlessly—taking you through a comic-book window into the ravages of war and holocaust and right back onto the fantabulous streets of New York."
By day, Bethesda's Eric Dezenhall is head of Dezenhall Resources, a DC crisis-management firm. His second career is as an author whose novels include Turnpike Flameout and the recent Spinning Dixie, both part of a series featuring spin doctor Jonah Eastman. Dezenhall's favorite summer book is Philip Roth's Goodbye, Columbus:
"It's about a Jersey boy obsessed with a girl totally out of his league—and he knows the summertime fling is doomed. Being a Jersey boy who felt out of his league every summer at the beach, I felt like Roth had been spying on me—even though the book was published before I was born."
Greenbelt author Donna Hemans was born in Jamaica, and her novel, River Woman, is set there. A few years ago, she came back from a literary festival in Jamaica with a novel that has become a favorite—Oonya Kempadoo's Tide Running, about a young man on the island of Tobago who becomes involved with a wealthy vacationing couple.
"I read the book after returning from the festival," Hemans says, "full of the memory of the sea mashing against the rocks and rolling gently onto the sand, rain pounding on the tent under which the festival patrons sat. I wanted to go back—to listen again to the poets and novelists and musicians playing with words and sounds."
She quotes the book's opening line—"The sea rolling and swelling up itself down by them rocks on Plymuth Point"—and says, "Kempadoo's book, so very Caribbean in its language and descriptions, took me back to where I wanted to be."
Scott W. Berg, author of Grand Avenues: The Story of the French Visionary Who Designed Washington, D.C., likes to go to a different climate in his summer reading. The Minnesota native has lived here 13 years but hasn't gotten used to our summer weather.
"When the thermometer edges toward 100," he says, "I return to my literary air conditioning—Winter, Rick Bass's cold-infused memoir of his first winter in Montana's high, remote, and beautiful Yaak Valley."
Carol Joynt isn't an author, but she interviews writers and politicos at the Q&A Cafe, a lunchtime series at her Georgetown restaurant, Nathan's (nathanslunch.com).
"If the focus is pure sunshine pleasure," Joynt says, "it would have to be the Travis McGee series by John D. MacDonald. I discovered these books during a year spent crewing on a sailboat in the West Indies. In addition to all that funky Florida culture, they have everything a good summer read should have—intrigue, salty characters, lust, seriously bad bad guys, doomed romance, a rogue hero, gin by the bucketful, and some clever wisdom."
MacDonald's more than 20 Travis McGee mysteries include The Deep Blue Good-bye, Darker Than Amber, and The Long Lavender Look.
DC's Lynne Olson—a former White House correspondent for the Baltimore Sun—has written several history books. Her new one is Troublesome Young Men: The Rebels Who Brought Churchill to Power and Helped Save England.
"The summer after I graduated from college," she says, "I picked up God Is an Englishman by R.F. Delderfield—a leisurely family saga in the mold of Galsworthy and Trollope that I was unable to put down.
"It's the story of a young British army veteran who parlayed a ruby necklace he found on a battlefield into a vast commercial empire. The book created an unforgettable portrait of Victorian England caught up in the turbulence of the Industrial Revolution and empire. It was pure entertainment, but its incredible sense of place, character, and detail helped feed my fascination with British history and had an impact on my own way of telling a story."
New Yorker turned Washingtonian Con Lehane has written three well-received mysteries starring New York City bartender Brian McNulty. The latest is Death at the Old Hotel. Lehane's summer favorite is David Goodis's Down There—also known as Shoot the Piano Player, the title of the François Truffaut film based on it.
"It may be a strange choice, as it's unrelentingly bleak," Lehane says. "It tells the story of a musical-prodigy pianist who is on the skids, hiding from life, tickling the ivories in a seedy honky-tonk saloon near the end of Lonely Street in Philadelphia's lower depths. Things get worse from there—and at a pace that would make your head spin.
"More than enough despair, betrayal, and violence color the book, but I find the story ultimately uplifting. My take on it has to do with an affinity for the down-at-the-heels bar that figures in the book—a drunk's version of 'a clean, well-lighted place,' where, like Robert Frost's farmhouse, when you gotta go there, they gotta take you in."